The first pressure washer was invented by Frank W. Ofeldt, II in 1927 after observing how the steam released by a portable water heater's steam outlet had the ability to move grease on the floor. He would go on to invent the "Hypressure Jenny" which Ofeldt was proud to see used for cleaning the Statue of Liberty.
Pressure washers are used nowadays the world over for domestic, commercial, industrial, and public service tasks.
To really appreciate the versatility of this machine let's take a look at some of the most popular uses for a pressure washer.
Popular residential uses for a pressure washer
Pressure washers are frequently used for residential outdoor cleaning. Fences, garden sheds, dog houses, sculptures, and paving benefit greatly from the use of a pressure washer.
They are also the most loved machine for cleaning railings, making swift work of an otherwise fiddly job.
But it's not just fiddly jobs that they're good at. Pressure washers allow you to clean large areas in a short space of time and are widely used for preparing outdoor surfaces for repainting.
Using a pressure washer on the outside of a building before painting removes any old flaky paint or other debris, leaving you a clean surface to work on, saving time, money, and mess.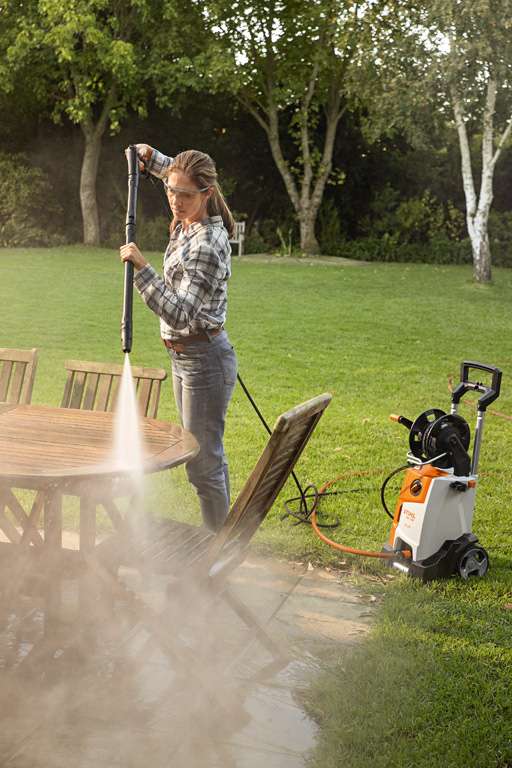 Cleaning a patio with a pressure washer is a very common use. Using a pressure washer on paving or a driveway can restore it to its original condition and is another popular use for these machines.
Pressure washers can be very effective at removing grease and caked-on dirt, unsurprisingly they are frequently used for cleaning grills and barbecues, although it should be clarified that any electrical parts that can be damaged must be protected and any gas canisters should be removed before attempting this.
Perhaps more surprisingly the pressure washer is often used for cleaning gardening machinery and some power tools: again, best to look up the 'do's and don'ts' of this before applying pressurised water to any expensive electric or mechanical devices.
A very popular use for a pressure washer is cleaning outdoor patio furniture. Patio furniture, although durable, often has grooves and patterns that can become encrusted with dirt. Pressure washers make very light work of cleaning outdoor furniture, leaving it as good as new.
Vehicles are high on the list of items likely to get zapped with a pressure washer. Although a lot of users agree that a brush attachment is usually necessary for scrubbing wheel rims when using a pressure washer to clean a car, these machines offer the advantage of allowing you to clean out parts that are hard to reach with any other device, such as door frames. Pressure washers are also used for cleaning motorbikes, boats, trailers, horseboxes, etc.
Aside from the cleaning aspect, pressure washers are great for unclogging drains, and cleaning gutters with a pressure washer is probably the most effective way of getting caked-in dirt and leaves out of gutters. They are also frequently used for cleaning garages, sheds, and stables.
Commercial and Industrial Uses
A lot of the commercial and industrial uses for pressure washers may overlap with domestic uses. Pressure washers are possibly the most sought after item for cleaning after building work or refurbishments.
They are ideal, not only for preparing work surfaces such as walls, tiling, paving, or concrete flooring for painting or maintenance, but they're also the number one go-to tool for cleaning up afterwards.
On a large scale, pressure washers are used for cleaning graffiti off walls and for cleaning pavements. They are also one of the most effective tools for cleaning grease off garage floors and warehouses.
The best pressure washer for your job
If you're a bit of a cleaning fanatic, by now you will surely have been inspired and will have thought of a handful of things at home that could benefit with a zap from a pressure washer, but before you rush out to hire one, let's have a look at some of the best models on the market and their applications.
Heavy-duty diesel pressure washers
Heavy-duty diesel power washers are great for patios, cleaning the outside of buildings, preparing surfaces for painting, and a variety of other outdoor tasks.
Mini Bowser Pressure Washer
Mini bowser pressure washers are ideal for those bigger outdoor jobs like cleaning garden fences as the water bowser provides a convenient water supply when you're far from the mains.
Diesel Water Bowser Power Washer
Diesel Water Bowser Power Washers are perfect for cleaning jobs in remote and difficult to access locations and are popular for industrial applications. These are powerful machines, and their water bowsers allow for extended cleaning time.
More Than Just Pressure Washers
Not only do we have a vast selection of pressure washers available, but our cleaning range also includes a variety of wet and dry vacuums, carpet cleaners, and floor cleaners, so that you can ensure both inside and outside of your property is spick and span.
Get In Touch
If you're looking for pressure washer hire, get in touch with Smiths Hire. We have over 50 years of experience in specialised plant and tool hire and a wide range of products for a variety of commercial, industrial and residential applications. With 16 centres around the Region including centres in Liverpool, Blackpool, Manchester and Leeds, Smiths Hire has everything you need for your next project. Get in touch today!