Equipment on Hire.
Items due off Hire.
Previous Hires.
Service, Test & Inspection Certificates.
Hire Contract.
Equipment Instructions.
POD's (proof of delivery).
(All available downloads in PDF and Excel)

Download your pricing agreement or search for a price.
For buying and hiring.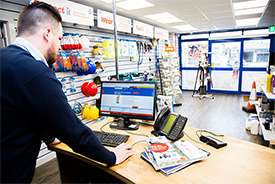 Invoices supplied on excel spreadsheet.
Invoice Summary.
Advice Notes (Download in PDF and Excel).
Copy Invoices.

Live Equipment On Hire.

*Once you're set up, gain access through the "My Account" button on our homepage.*

Hire products online.
Off-hire products online.
Order consumerables online - Cutting discs, drill bits, PPE etc.
OTHER SERVICES IN MY HIRE
Electronic Invoicing.
Batch Invoicing (Invoices supplied on Excel Spreadsheet).
Hire Protect.
Live On Hire Reports - Configured to user or site and sent automatically, Daily/Weekly/Monthly.
Unlock YOUR account today, request your unique username & password.