Trimming your hedge is an essential task that helps maintain its health, appearance, and overall structure. Regularly pruning promotes healthy growth, enhances the aesthetics of your outdoor space, and ensures privacy. However, it's important to approach hedge trimming with proper techniques and tools to achieve the best results. We can help you on both accounts here a Smiths Hire – we've got over 50 years of experience behind us providing our customers with the very best tool hire and powered access equipment hire services in the UK. You'll also find an extensive selection of gardening tools for hire in our vast range, which means we have everything you need for your summer gardening projects! So, let's talk hedge trimming…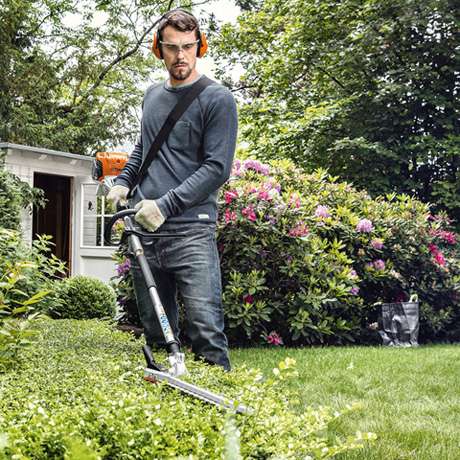 How to efficiently trim your hedge
There are a few essential factors to keep in mind when trimming your bushes. Not all of these tips are essential, but following them will definitely help you produce the best outcome for your hedge.
Choose the right time of year – timing is crucial when it comes to hedge trimming. Aim to trim your hedge during the dormant season, typically late winter or early spring, before new growth begins. Trimming during this period minimises stress on the plants and encourages vigorous growth during the season of new beginnings. Therefore, providing you with a healthier looking bush.
Assess and plan – before grabbing your pruning shears, take a step back and assess your hedge. Identify any diseased or damaged branches that need removal, and decide on your desired shape and size for your bush. Planning ahead will help you achieve the outcome you want and reduce the chances that you accidentally over-trim it.
Use proper tools – hire some high-quality tools specifically designed for hedge trimming. These include hedge shears, loppers, and pruning saws. Ensure that your tools are sharp and well-maintained to make clean cuts and reduce the risk of damaging the hedge.
Safety first – make sure to acquire some protective gear such as gloves, safety glasses, and long-sleeved clothing to shield yourself from scratches and debris.
Start with the bottom – when trimming your hedge, it's best to start at the bottom. This technique allows more sunlight to reach the lower branches, promoting healthier growth. And here's an added tip – use long, sweeping motions to create an even and smooth surface.
Create a sloping shape – in order to prevent the top of your hedge from shading the lower parts, you'll need to create a sloping shape. The wider base will ensure sunlight reaches the lower foliage, preventing thinning or bare spots. If you're trying this, we'd advise that you use a guide string or a levelled board to maintain an even slope while trimming.
Step back regularly – as you're trimming, don't forget to step back occasionally to evaluate your progress. This allows you to ensure the hedge is even and symmetrical. If you notice any irregularities, make necessary adjustments to maintain a balanced appearance.
Trimming your hedge can be a rewarding task when done with care and proper techniques. If you follow these top tip and acquire some reliable gardening tools to help you, you'll be able to maintain a healthy and visually appealing hedge.
We offer a range of specialist hedge trimmers for hire in electric and petrol variants as well as a long reach option for those tall hedges without the need for a ladder.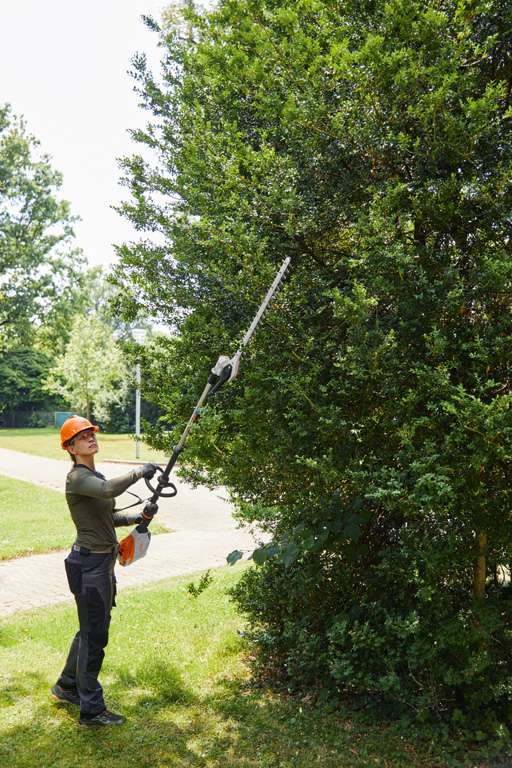 Gardening equipment from Smiths Hire
We can provide anything from general gardening tools to rough-cut mowers and chainsaws. No matter how big or small the job; we have the gardening tools and equipment to make light work of any garden makeover or maintenance. If you would like to hire gardening tools that are high quality, high performance garden equipment, then our selection features a vast number of products – grass trimmers, leaf blowers, hedge trimmers, wood chippers, as well as lawn care equipment, to name but a few!
Smiths Hire have been providing quality equipment and tool hire services to the DIY and trade sectors for more than half a century. Operating from 16 tool hire depots across the North West and Yorkshire, including several major cities like Manchester, Liverpool and Leeds. If you need any help or advice, feel free to give our team a call on 0333 323 2100!