Did you know, although employers have a duty of care for the safety of their workforce, accidents on building sites increase by over 30% during the darker months of the year? Construction site work is hazardous at the best of times. Without adequate temporary lighting on the construction site, having to avoid discarded materials, broken bricks, timber off-cuts, uneven ground, scaffold poles and a range of other building paraphernalia in half or no light becomes positively dangerous.
The dangers don't just lurk outside either. Without any on-site lighting during winter, inside hazards including open stairways, cellars and walkways become more dangerous. The risk of tripping or falling grows and the danger of personal injury from power tools increases exponentially.
Overcoming an inadequate lighting problem
Firstly, purchasing temporary lighting in the UK is rarely cost-effective, unless you work permanently through the night on motorway or railway maintenance contracts. For general construction work, temporary on-site lighting will only be required for around six months of the year.
The rest of the time, it will gather dust (and damage) in the back of your warehouse or lock-up garage. Meaning every time you need to use it, you'll probably be forking out for replacement bulbs or damaged cable.
Factor the cost of temporary lighting into your quotes
If you're quoting for a contract scheduled to run from June through November, you will need additional lighting for around two months, October/November. If the job runs from November through March, you'll need extra lighting for the duration.
Find a reputable supplier of temporary lighting and construction equipment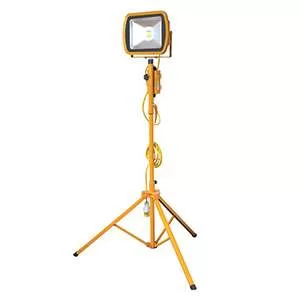 Here at Smiths Hire, we have been supplying construction machinery, tool hire and equipment to the building industry for over 50 years. With our online booking site and fast, efficient delivery service, getting what you need, when you need it, couldn't be easier. But what do you need, to throw some light on your upcoming project?
Light up your site
Large contractors engaged on new-build estates will surround the site with floodlights that would put many a top stadium to shame.
While you probably won't need that volume of lighting if you're working on a single new-build, house extension or major refurb, we have a range of high-quality lighting for outdoor and indoor use which should minimise the risk of avoidable accidents.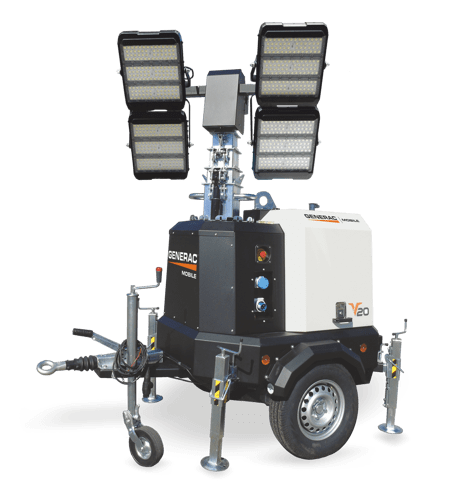 The VT1 ECO is an updated version of the VT1 tower using four 1000W halide floodlights. A mobile unit that can be towed by car or van, it has an inbuilt darkness meter, which will automatically start the generator as dusk falls and stop it as light improves, providing economical, fuel-saving operation. Reaching 9m high, it provides excellent illumination over a wide area.
Similar to the above, the V20 mobile lighting tower should provide all the widespread light you need to continue operations after dusk. A mobile unit that can also be towed by a car, the V20 consists of 4x320v economical LED floodlight units that can be raised 8.5m. It comes with its own generator and will provide over 160hrs of powerful lighting in one session.
If you have mains power for your on-site lighting, we can supply a range of self-standing lighting that can be used to illuminate inside areas as well as outdoors. This includes LED tripod tube lights, powerful halogen floodlights and economical LED Quad lamps. These will require the use of a 110v transformer, and we stock a range of transformers, distribution boxes and extension cables. You can find our LED Lighting range here.
If power is an issue, consider one of our diesel or petrol generators in a range of sizes and power options. If your generator needs to be regularly moved around the site, we have one-man ultra-portable units on wheels.
Whenever floodlights are used on outside sites, especially near roads or residential buildings, they should be angled downward. This should provide the biggest arc of light while minimising the risk of blinding car drivers or excess light bleeding into nearby residents living rooms or bedrooms.
Lighting up the interior
On most smaller contracts, the majority of the work is undertaken by sub-contractors, builders, plasterers, plumbers and electricians. The quicker they can complete their work, often working into the night, the more they earn, while the main contractor benefits from a job completed on or before the due date.
The risks of serious injury when working inside poorly lit properties are often greater than when working in outside areas. If first fixings are to be undertaken, or the property is undergoing a major top to bottom refurbishment, hazards lay around every corner.
Floorboards may be loose or missing where plumbers or electricians are running new pipework or cable. Plasterers may be trying to work off raised scaffold boards. Doors and safety rails may be missing, waiting to be replaced, and lengths of cable and piping lay about on the floor.
Smiths Hire can supply lighting to illuminate large areas such as warehouse interiors and whole rooms. We have smaller units, suitable for adding additional lighting to small spaces Whatever you need to brighten up those twilight hours or dark winter nights on your next project, you can get it from Smiths Hire. Give us a call on 0333 323 2100 to find out more.