The majority of machines we supply are manufactured by Kubota, but we have one or two additional options too. Each one is a fantastically versatile machine that can be used for a vast range of jobs, and their compact size makes them a viable option on almost any job site.
Now, with more than 50 years in business behind us, we're used to fielding our fair share of questions about mini digger hire. Here, we've summed up some of the most common – so if you've got any queries yourself, this may give you a useful head start!
What is a mini digger?
Also sometimes referred to as a mini excavator, a mini digger is exactly what it sounds like; a small, single-occupant machine designed for small-scale excavations. It consists of a single cab sitting atop an undercarriage driven by tracks or wheels, with a boom (arm) and a bucket on the end.
Mini diggers can be tracked or wheeled, and their bucket size typically ranges anywhere between 12 to 24 inches. That makes them ideal for jobs that require lifting and shifting materials, whether that's earth, sand, or debris. Its compact size makes it handy for use in environments with limited space, such as a private garden, or for digging tasks that might require particular levels of precision, such as repairing sewer lines.
There's a fairly loose consensus on how much mini diggers weigh; it can be anything from 4.5 tonnes, all the way up to 9 tonnes. Generally, anything over 9 tonnes in weight is regarded as a standard excavator. However, it's worth noting that some people draw that line at 4.5 tonnes instead.
Mini diggers don't typically require the operator to hold a special licence or qualification, so they can be legally driven by almost anyone (within reason), as long as they're not driven on public roads.
Mini diggers can be used for a wide variety of tasks, including (but not limited to):
Digging holes, trenches or irrigation ditches
Demolishing sheds or small structures
Repairing sewer lines
Flattening the landscape
Ploughing snow
Breaking up concrete (with the right attachment)
Those are just a few examples though – you may well be able to think of more!
What are the benefits of using a mini digger for your project?
As we've touched on above, the compact size and versatility are the two main benefits of mini diggers, and a lot of their more specific advantages branch from these. That's a big part of what makes them frequent mainstays for landscaping, building and civil engineering projects.
The key advantages of mini diggers include:
Their ability to fit and operate within compact spaces
Simple to transport, allowing for relatively quick deployment
Designed for ease of use
Reduced noise pollution
Cost-effectiveness and efficiency
An inherent versatility that allows them to be used for a huge range of different tasks throughout the year
Can be tailored to the demands of each job with powerful attachments
Why do we provide Kubota mini diggers here at Smiths Hire?
Quite simply, we believe that Kubota mini diggers are the best on the market. Crucially, our customers do, too! Each Kubota mini-digger has been designed with safety, durability and ease of use in mind, so that you can be sure it will stand up to the demands of your job – no matter how intensive.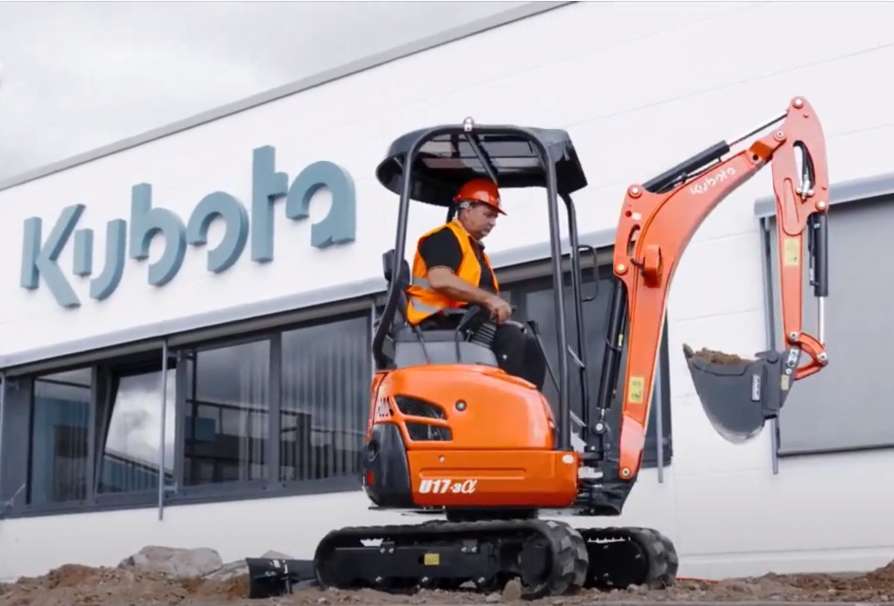 Usability is perhaps one of the most critical aspects of each Kubota digger, and in that they excel. A Kubota mini digger offers you a superior field of vision, with all the key information laid out clearly on its digital display. The boom and bucket can be manipulated easily within tight confines or sensitive environments, and its design provides it with extra stability so that it can easily adapt to any changing obstructions in the immediate area.
What's more, you can enjoy a comfortable seat, spacious cabin and enclosed canopy; all perfect for keeping you comfortable and productive for those gruelling all-day jobs out on-site. You can also choose your favourite from the range of attachments we offer, enabling you to tailor your mini digger to the demands of your specific application.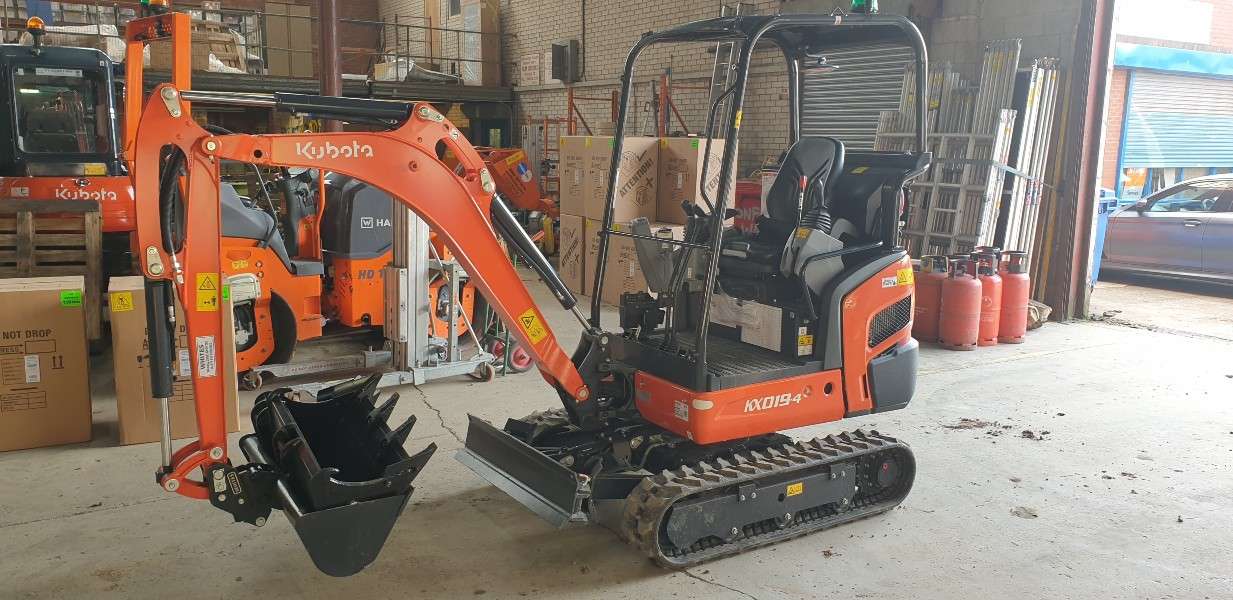 All told, it's a compact, fuel-efficient and dynamic machine that won't let you down, no matter what job you've got in mind.
Do we provide any other mini diggers for hire at Smiths Hire?
Yes. We also provide several eco-friendly models to choose from – ideal if you're trying to limit your emissions on site. One solid option is the 1.6t Hybrid Mini Digger by Takeuchi, which is one of the most popular mini excavators worldwide, and the go-to choice for tool hirers, utilities and ground workers. Crucially, it features a high-voltage connection point at the back of the machine, so you can enjoy 100% emission-free use on-site. (As an extra bonus, the original diesel engine can still be used for travel mode.)
Alternatively, you can consider the 1.9t electric mini digger by JCB. One of the most popular vehicles in JCB's new fully-electric E-TEC range, it offers zero emissions at point of use – which makes it brilliantly suited to sensitive or enclosed spaces, saving you and your staff from breathing in any large volumes of diesel fumes.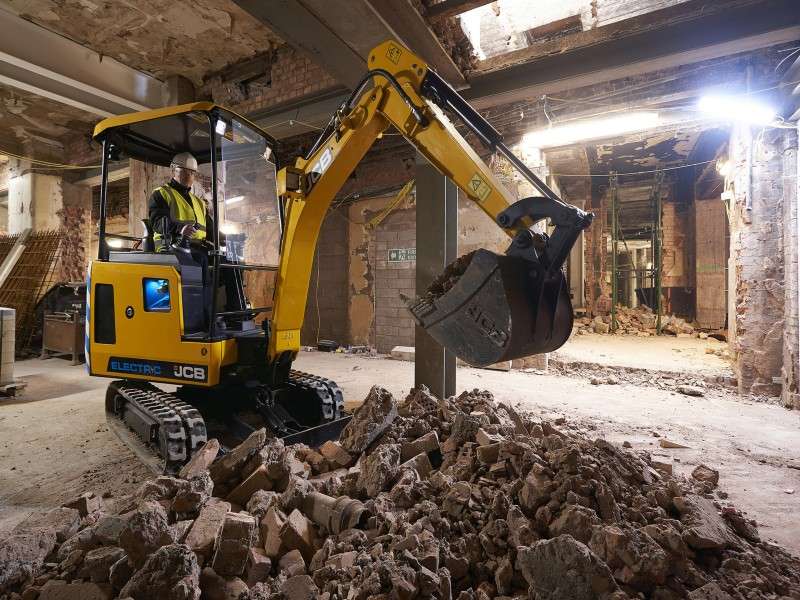 These are just a few of our suggestions though – if you need any help narrowing down your choices, that's exactly where we can help. With more than half a century of experience behind us, you can count on us to recommend the perfect mini-digger for your project. We also supply powered access machines to our customers nationwide, so no matter where you're based in the UK, you can count on us to be able to help!
And if you're thinking of any extra tool hire options, such as chainsaw hire, concrete breakers or lifting equipment, we can help there too. We operate from 16 tool hire depots across the North West, including several in major hubs like Manchester, Liverpool and Blackpool.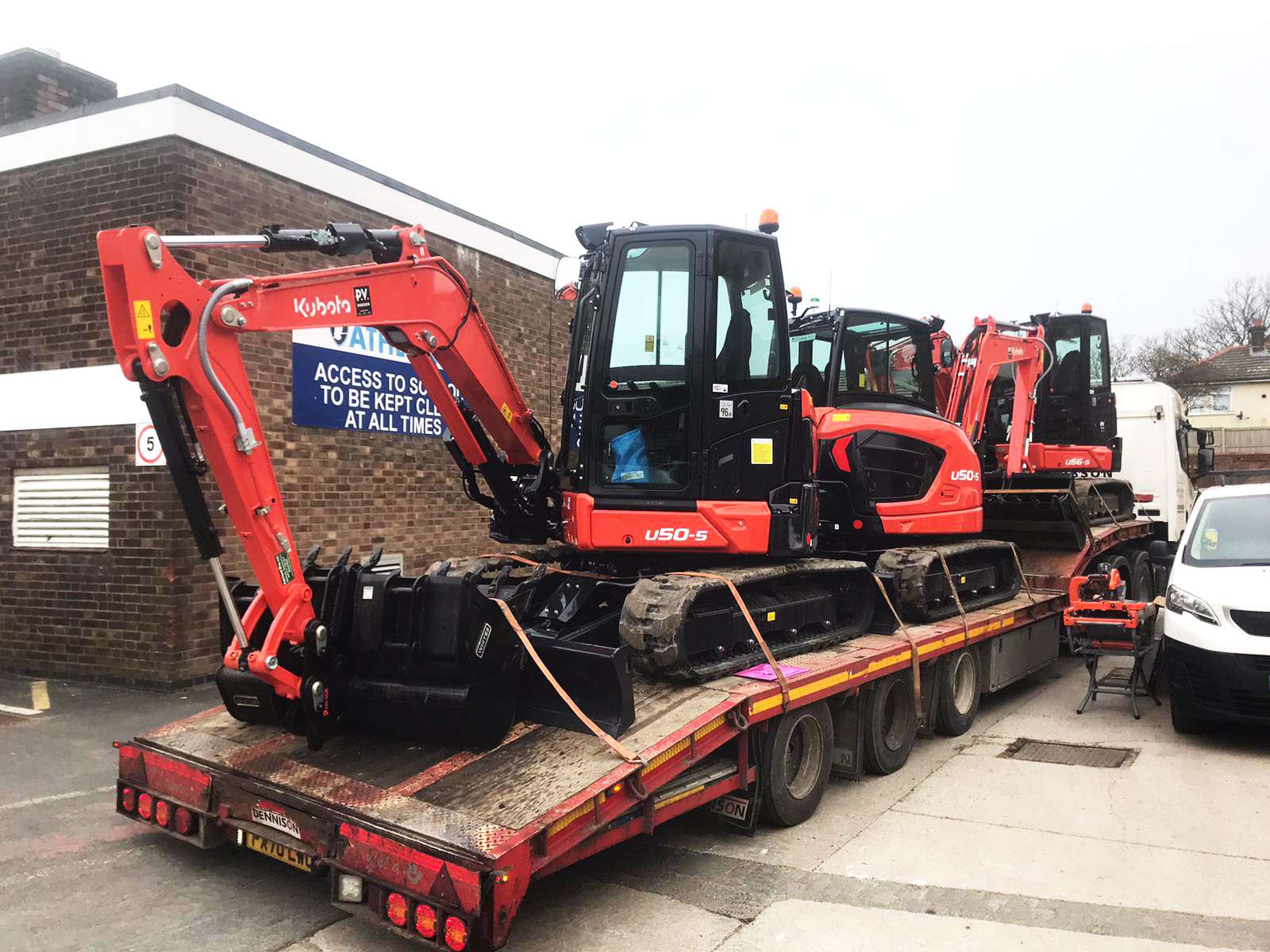 If you've got any further questions or you need a bit of expert advice, don't hesitate to get in touch with us – feel free to call us on 0333 323 2100, and we'll be happy to help however we can!