Spring is the season of growth and new beginnings, and this is especially true for your lawn. After a long, cold winter, your garden grass is ready to thrive and flourish. To help it reach its full potential, it's important to take some steps to care for it properly, and that means using reliable gardening tools. Luckily, you're in exactly the right place for powerful equipment hire – here at Smiths Hire we've been supplying our customers with reliable tool hire and powered access equipment hire for more than 50 years, and in that time, our lawn care equipment has helped many of our customers to keep their lawns in perfect shape. Here's how you can do just that.
Clean up any debris
Before you start any other lawn care tasks, it's important to clean up any debris that may have accumulated over the winter. This includes fallen branches and leaves, because not only does this improve the appearance of your lawn, but it also allows your grass to get the sunlight and air it needs to grow. What's more, you'll have a clear surface when it comes to mowing your lawn, meaning you'll be able to comfortably mow it without any obstacles slowing you down.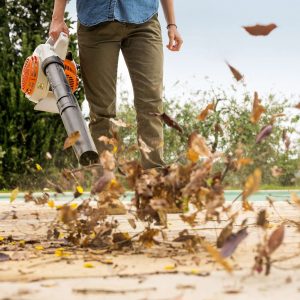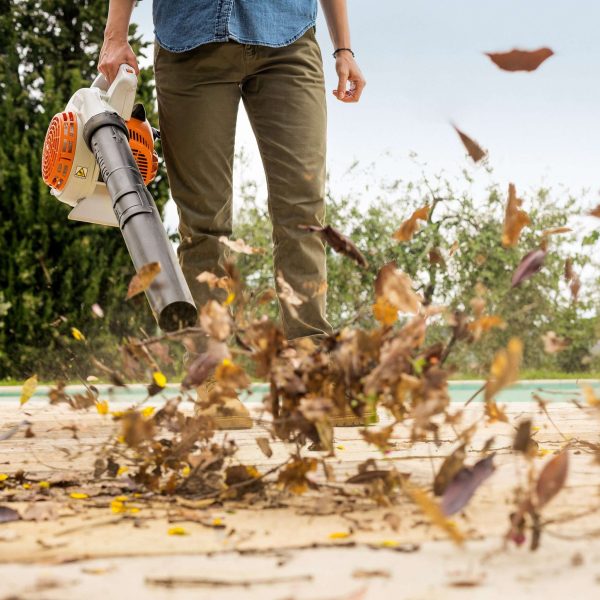 Aerate and fertilise your soil
Over time, soil can become compacted, which can make it difficult for grass roots to penetrate and absorb water and nutrients. That's why proper aeration is so important. Aeration is the process of creating small holes in the soil to alleviate compaction and this allows air, water, and nutrients to penetrate the soil more easily, which helps your grass grow healthier and stronger over time. Here at Smiths Hire, our petrol lawn aerator is the perfect tool to help you supply oxygen to the root zone of your grass.
What's more, fertiliser provides the essential nutrients that your lawn needs to grow strong and healthy. In the spring, it's important to apply a balanced fertiliser that contains nitrogen, phosphorus, and potassium, as this will help your lawn grow strong, green, and healthy.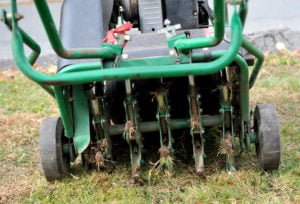 Seed bare spots and sprinkle with water
If you have bare spots in your lawn, spring is the perfect time to seed them. This will help your lawn fill in and become more dense, which can improve its overall appearance and health. Be sure to choose a high-quality seed that is appropriate for your region and soil type. In the spring, it's important to water your lawn deeply but infrequently – this means giving your lawn a good soaking once or twice a week, rather than watering it lightly every day. This will encourage your grass to develop deep roots, which can help it withstand drought and other stresses.
Mow regularly
Regular mowing is essential for a healthy lawn. In the spring, it's important to mow your lawn regularly to prevent it from becoming too long and shaggy (once every week is optimal, but once every couple of weeks will usually do the job!). Be sure to set your mower blade to the appropriate height for your grass type, and never remove more than one-third of the grass blade at a time.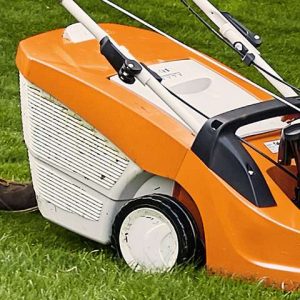 Let's be honest – it can sometimes be a pretty intensive job, depending on the size of the space you're working with, so it might be worth sharing around with others occasionally! Caring for your lawn in the spring requires some effort, but the results are well worth it!
What's more, if you need any gardening equipment to help you get the job done swiftly and effectively, that's where we can help. We've been providing quality equipment and tool hire services to the DIY and trade sectors for more than half a century, operating from 16 tool hire depots across the North West and Yorkshire, including several major cities like Manchester, Liverpool and Leeds.
If you would like to buy Garden tools instead of hire, then Smiths Hire STIHL Store has you covered, with a vast range of high quality garden and power tools to choose from you will be spoiled for choice. The brand STIHL is synonymous with high quality, high performance garden equipment and the selection features Grass Trimmers, Leaf Blowers, Hedge Trimmers as well as Lawnmowers to name but a few. Check it out today, buy online and have your new Stihl product delivered or opt for Click & Collect from your local depot and one of our knowledgable team can give you help and advice regarding the set up and maintenance of your new equipment.  Or feel free to give our team a call on 0333 323 2100 for any additional guidance.