Your Hires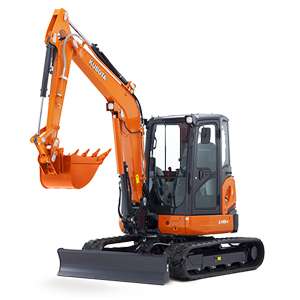 5t Kubota Mini Digger
5t Kubota Mini Digger Hire
The Kubota U48-4 is ready to take on any challenge. It combines the power for demanding jobs and the versatility to work in any condition. This advanced 4.7 tonne machine is designed with excellent stability to work efficiently even where space is confined. With superior digging and lifting power, together with smooth travel performance, this Kubota truly has it all.
Product Features:
Power – 40.5(PS)
Cylinders – 4
Speed – 4.9km p/h
Weight – 4775Kg
Can be supplied with hydraulic breaker/pecker if required
Fitted with quick hitch, buckets 12", 18", 24", 36″ & ditching.

Click to view the product information for the Kubota U48-4 model
View our full range of Mini Diggers and Attachments here
Discounted Web Rates:
Ex VAT & Delivery
Additional Day rate
£150.00