Your Hires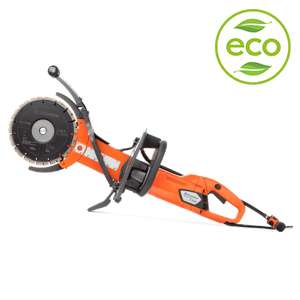 Husqvarna K4000 Cut-n-Break (Electric)
Husqvarna K4000 Cut-n-Break (Electric) Hire
The Husqvarna K4000 Cut-n-Break (Electric) Power Cutter is the ideal choice when you need to cut deep but want a machine with low tool and maintenance costs. The Husqvarna K4000 Cut-n-Break enables you to cut as deep as 400 mm from one side. Suitable for flush cutting close to walls and floors as well as for smaller jobs like window openings where you want to avoid overcutting at the corners.
Including high performing twin blades, with a very stable core and cutting performance. Teamed with easy serviceability due to the one-piece inspection lid and the Torx screws make it wasy to assemble and service.
Product Features:
Cost-efficient cutting method –
The unique Cut-n-Break method allows to work through the material step-by-step at a low tool cost.
Exceptional cutting depth – 
The long body and double cutting blades allow you to make cuts up to 400mm deep.
Perfect for flush cutting – 
The adjustable blade guard allows close cutting to walls and floor.
Ergonomically designed rear handle –
Power cord inlet located underneath the handle enables ease of use and comfortable handling with hassle free operation.
Perfect for indoor or outdoor use –
This powerful electric cutter is ideal for use on blocks, curbstones and pavers. As well as floors, walls, pipes and cast concrete.
Click to view product manual for the Husqvarna K4000 Cut-n-Break Power Cutter
Discounted Web Rates:
Ex VAT & Delivery
Additional Day rate
£20.16
Vibrations left/ front handle

3.2m/s2

Vibration right/ rear handle

3.4m/s2

Blade thickness max.

2.5mm

Peripheral speed max.

60m/s

Sound power level guaranteed (LWA)

109dB(A)

Sound pressure level at operators ear

95dB9A)