Your Hires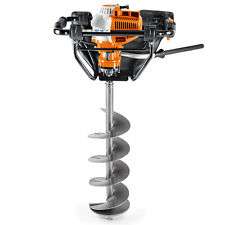 1-Man Petrol Post Borer
1-Man Petrol Post Borer Hire
Comfortable one-man earth auger with vibration-reducing handles. Includes innovative QuickStop drill brake, which brings to a halt as soon as the drill jams in the ground. Particularly suitable for a large variety of purposes, from drilling simple holes in the ground to taking soil samples. Extensive choice in drilling tools for holes up to 200 mm in diameter.
Product Features:
Vibration reducing handles for maximum usability.
Suitable for a range of purposes.
Can dig holes up to 200 mm in diameter.
Discounted Web Rates:
Ex VAT & Delivery
Additional Day rate
£15.72