Equipment like portable heaters and on-site lighting will soon become a staple feature of outdoor jobs across the UK, so it's worth recapping exactly why it's worth investing in some effective site lighting hire equipment from us here at Smiths Hire.
Maximise safety on your site
It goes without saying that the safety of your employees and site visitors is one of the most important factors that needs to be taken into account when you're setting up your construction site, and low light can pose a significant risk to the safety of everyone who visits it during the winter months. The resultant lack of visibility opens up the risk of more slips, trips, and errors. Our portable lighting solutions can help you to illuminate potential hazards on site, lowering the risk of a serious accident occurring, particularly if you're using powered access equipment.
While there are no specific requirements regarding what qualifies as adequate lighting in the workplace, construction health and safety managers can always refer to the Health and Safety Executive's Lighting at Work (HG38) as a form of general guidance, as it gives recommended minimum lighting levels for different construction activities.
Reduce crime and the cost of your insurance
On-site lighting is just as important when you're not on-site as when you are there, especially when it comes to crime prevention – thieves generally like to work under the cover of darkness. On-site lighting is therefore really important if you're storing valuable equipment on-site like tools, powered access equipment, materials, and personal items belonging to your staff. What's more, we'd definitely say it's well worth investing in a CCTV system that will turn on and start recording as soon as the light is activated. Plus, in the event that any thefts do occur, it'll give you peace of mind that you'll have some form of evidence to refer to that you can show to the police. On-site lighting can also help you to drastically reduce the rate of your insurance premiums as well, as it makes the site far more safe and secure in a variety of different ways. For example, your staff will be safer, meaning you're far less likely to need to claim for an accident at work; plus you're at far less susceptible to theft, which also brings potential insurance costs down.
Save on cost and energy
One big factor on any site is the amount of energy consumed and the cost attached, especially now in the current cost-of-living crisis. That being said, it's always best to opt for lower emission and less costly alternatives in our Eco Lighting range. Here you can find LED standing lights which are the more maneuverable option, as well as Solar Powered Towers and Compound lights if you're looking for something bigger and more powerful.
So, if you're interested in renting some effective portable lighting solutions for your construction site, you're in exactly the right place. Here at Smiths Hire, we've recently expanded our range of portable lighting, with an investment of £87,500 into 10 new LED lighting towers. These 8.5m LED Lighting Towers have already proved popular with our customers and so we are happy to acquire another 10 units for our ever-growing fleet range.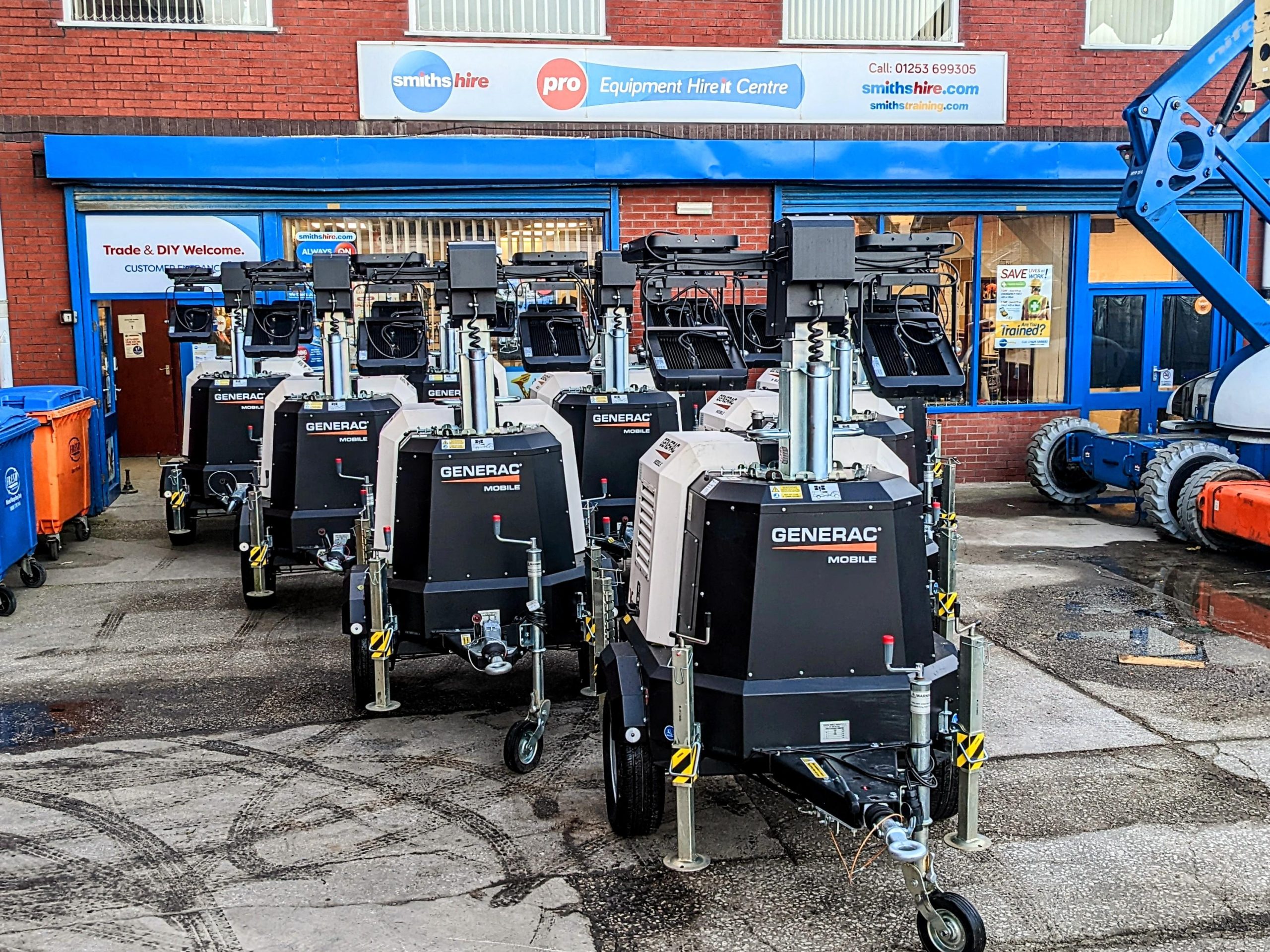 We operate from 16 tool hire depots across the North West and Yorkshire, including several in major hubs like Manchester, Liverpool and Leeds. Plus, we also have our National Customer Support Centre based at our Head Office in Blackpool. That means we can supply total site solutions and tool hire to locations across the UK. Wherever you're based in the country, you can rely on us to supply you with everything you need to get the job done.