Your Hires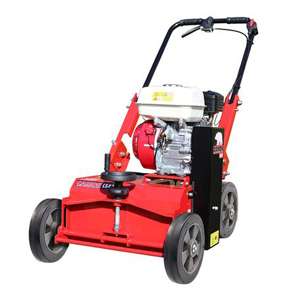 Petrol Lawn Scarifiers
Petrol Lawn Scarifiers Hire
The Petrol Lawn Scarifiers are guaranteed to remove weeds, moss and other residual matter from the lawn. This moss and matter impedes efficient aeration of the soil. Regular scarification will ensure lawns stay lush, green and healthy; tackling the most stubborn of soils with confidence. With a working width of 17″, they are ideal for areas over 2000m².
With a Honda GX 160 engine they will deliver a steady work rate and optimum power transmission. In addition, our Petrol Lawn Scarifiers feature free swinging steel blades which rotate on large bearing mountings meaning if they hit an immovable object like a tree root, then the blade will simply swing back protecting the machine and the operator.
The reinforced steel deck designed will withstand the harshest of conditions. Equipped with robust metal wheels turning on bearings to allow smooth progress and optimum control on any surface.
Easily adjustable working height system with memory as well as folding handles for more compact storage
Product Features:
Main Use: Designed to remove weeds, moss and other matter from the lawn
Suitable For: Domestic and Professional Gardeners / Groundsmen
Not Suitable For: Lifting the machine alone. At least two people is the minimum required
Top Tips: Always observe the safety sheet before use. Gloves and ear protection must be worn when lifting the LS42 Lawn Scarifier
Click here to view product information sheet for the Camon LS42 model
Click here to view our range of Lawn Care Equipment for hire
Please note images are for illustration purposes. Actual product supplied may differ
Petrol supplied on a Sale or Return basis

Discounted Web Rates:
Ex VAT & Delivery
Additional Day rate
£13.59
Dimensions

120cm (L) x 59cm (W) x 98cm (H)

Rated Engine Speed

3600rpm