Your Hires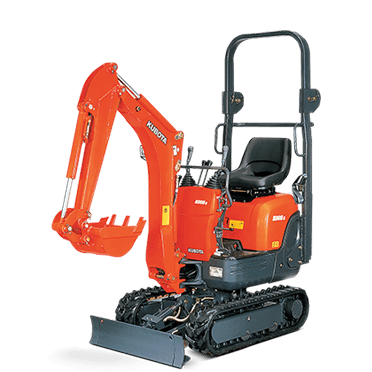 Mini Digger Kubota K008–3 0.8t Micro/Small for Hire
Mini Digger Kubota K008–3 0.8t Micro/Small for Hire
Kubota K008–3 0.8t Mini Digger Rental
Here at Smiths Hire, we are pleased to offer a great range of small excavators for hire. If you are looking for a compact and powerful mini digger then the Kubota K008-3 is the answer. This mini digger which is available for rental is ideal for tough jobs where space is limited. With its variable frame and foldable headband security, you'll be able to move it around your site easily. Our Kubota K008-3 small excavator for hire has an easy single-lever operation meaning that the adjustable track gauges reduce in a matter of seconds. As well as narrowing the tracks, you are also able to widen them to increase stability.
Kubota K008-3 Key Features:
Weight – 980kg
Digging Depth – 1720mm
Minimum Width – 700mm
Engine Output – 10.2(PS)

Enhanced operator protection.

Micro tracks through a 76mm (2ft 6in) doorway with ease making it ideal for working inside buildings or in rear gardens.
Low ground bearing pressure, the Micro is just as well suited to landscaping duties.
Our small excavators for hire can also be supplied with hydraulic breaker/pecker if required.
Fitted with quick hitch, buckets 12", 18", 24", 36″ & ditching.
For more information about our mini diggers for rental, get in touch with us today on 0333 016 2170.
Click here to view product datasheet.
For more information on this product visit the Kubota website
Name

0.8t Excavator / Micro Digger

Width

750mm (tracks retracted)

Height

2230mm/1570mm roll cage folded/1420mm roll cage removed
Web Price:
Ex VAT & Delivery (if applicable)
Day hire rate
Was £297.00
£75.00
Additional Day rate
Was £N/A
£75.00
Weekend hire rate
Was £297.00
£120.00
Week hire rate
Was £495.00
£300.00
Mini Digger Kubota K008–3 0.8t Micro/Small for Hire in action