Your Hires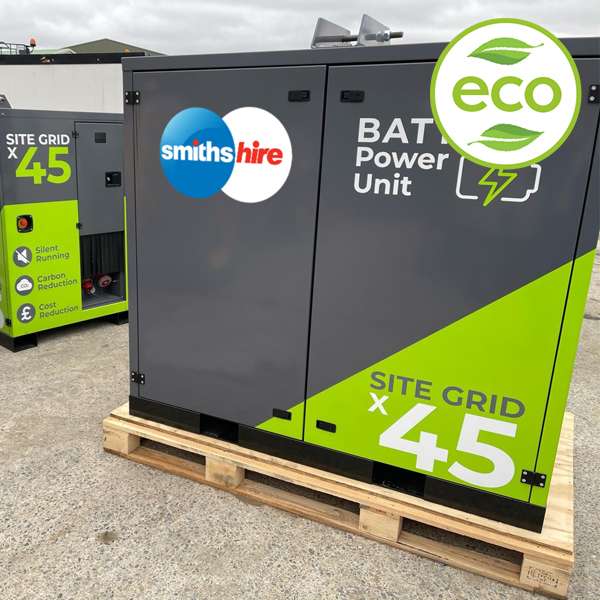 Hybrid Battery Generator
Hire Information
In order for you to book this equipment for hire you must first specify the following information:
The date you wish to start hiring
The date you wish to finish hiring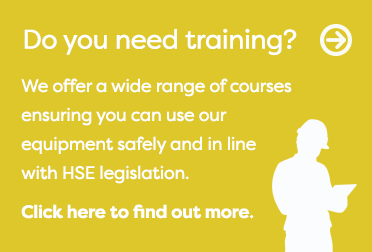 Hybrid Battery Generator Hire
This Hybrid Battery Generator – SiteGrid X45 is a three-phase 45kVA-45kW hybrid battery generator. It offers a convenient and efficient method of delivering power to any site environment without a grid connection. Whether your site needs power for lighting, a welfare cabin or simply for equipment, SiteGrid will deliver power far more efficiently than a generator alone.
This Hybrid Battery Generator utilises generator power, and renewables if available, to store power in a sophisticated battery bank with a dedicated monitoring & control system, delivering silent power from the battery when needed. The generator will only be started when loads demand more power or to top up the battery. Significantly reducing emissions, the size of generator required and fuel costs.
Product Features:
A reduced environmental impact and carbon footprint
As well as reduced generator runtime and service costs
Reduced noise emissions
Remote energy management and live energy reporting
Ideal for site lighting and accommodation/welfare units
3 phase configurations
Can be synchronised with generator sets from 20kVA
For more information click here to view product datasheet
Click to go back to our full Eco range.
DISCOUNTED WEB RATES
FROM £POA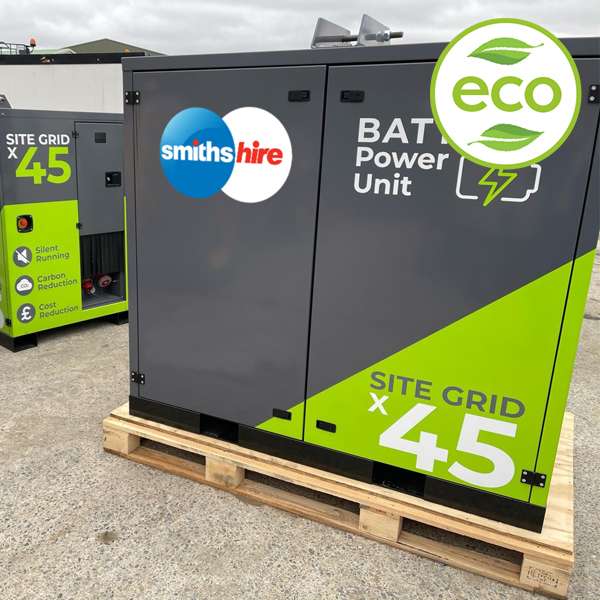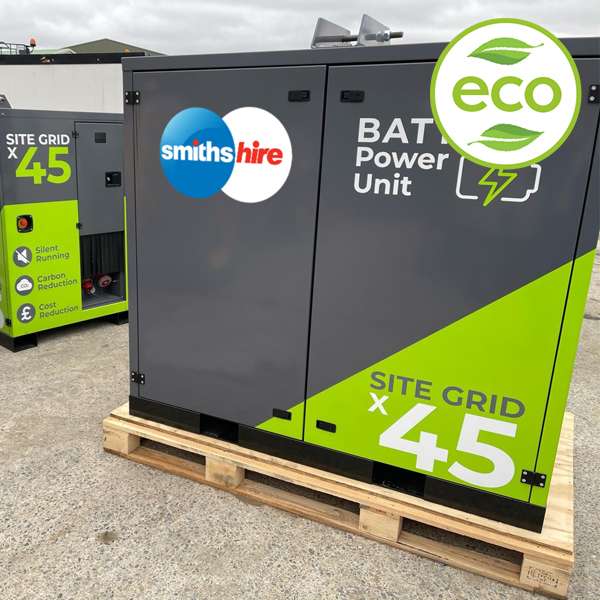 Inverter Rated Power

45kVA

Output Voltage

400VAC ± 2% Frequency: 50Hz ± 0.1% (1)

Standard Outlets

1 x 63A 3PH and 6 x 32A 1PH

Operating Range

-20 to +50°C (fan assisted cooling)

Capacity

45kW-70kW Lithium NMC

Dimensions (L x W x H)

1007mm x 1861mm x 1630mm