Your Hires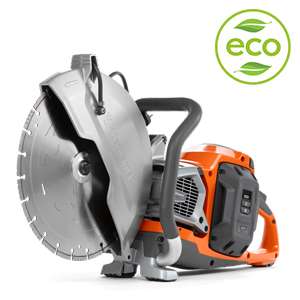 Battery Powered Masonry Saw – Husqvarna K1 PACE (12″ / 300mm blade)
Battery Powered Masonry Saw - Husqvarna K1 PACE (12" / 300mm blade) Hire
Husqvarna introduce "a breakthrough in the market for power cutters" with their next generation battery power cutter –  the Battery Powered Husqvarna K1 PACE Cut Saw (12″ / 300mm blade). An increasing number of construction companies are striving for carbon-neutral workplaces. Therefore, Husqvarna feel a responsibility to contribute towards greater sustainability.
Husqvarna K1 PACE high power battery cutter has the power and performance you expect from equivalent petrol-powered cutters.
Equipped with X-Halt® brake function for enhanced operator safety, capable of stopping the rotation of the blade in fractions of a second.
Ergonomic and user-friendly with low vibrations, optimally balanced machine and zero direct emissions. With built-in connectivity so you can easily monitor machine location, runtime and service intervals. Along with the facility to receive wireless updates through FOTA (firmware over the air).
Powered by the Husqvarna PACE battery system with high power and fast charging for impressive productivity. Along with a well-suited match with our specially designed battery blade range for maximised cutting depth and optimised performance.
The Husqvarna K1 PACE is suitable for concrete pipes, concrete garden plates, cinder blocks etc.
Husqvarna K1 PACE Features:
High performance power cutter
Integrated gearbox for higher torque
Provides zero direct emissions
Lower vibrations
Integrated wet cutting system
Ergonomic and user-friendly
Smart battery placement
Ergonomic handles
Efficient brushless motor
Built-in connectivity
Perfect balance
Anti-vibration system
Click here to view the product information for the Battery Powered K1 PACE Cut Saw 
Discounted Web Rates:
Ex VAT & Delivery
Additional Day rate
£11.73
Blade thickness max.

1.8mm

Peripheral speed max.

59m/s

Sound pressure level (at operators ear)

101.9 dB(A)

Vibrations left/front handle

2.0m/s2

Vibrations right/rear handle

1.1m/s2