Here at Smiths Hire, our quick and reliable tool hire and powered access equipment hire services have been the go to option for professionals across the North West for over 50 years. We stock a wide variety of equipment that to choose from, including our forklifts and pallet trucks. In fact, they're two of our most popular offering – and it's easy to see why.
These pieces of lifting equipment can offer you a range of benefits on site or in the warehouse. So, if you're thinking about hiring some of these vehicles from us, here's a quick guide to what these powerful machines can offer you.
Expect high performance from our pallet trucks
We have a wide range of trolleys and trucks available for your handling needs. Out pallet trucks are deal for moving large heavy goods on flat surfaces. So here are a few of the useful benefits that our pallet trucks can offer you.
Small – the size of the equipment enables the operator to access and navigate tighter/narrower spaces. This makes a pallet truck a really practical option for warehouse workers who spend a lot of time transporting multiple loads around.
Improves productivity – given that pallet trucks are small and easy to manoeuvre, they're extremely easy to use within small spaces. It's one of the qualities that make pallet trucks great additions to any warehouse that needs an extra bit of assistance in keeping up with extra demand, or a little boost in productivity.
Extra visibility – the increased visibility offered by the pallet trucks colour scheme allows the operator to manoeuvre down narrow aisles and glide throughout the warehouse with absolute ease, while in full view of anyone nearby. This can be an extremely useful feature in a busy warehouse environment when it comes to avoiding collisions.
Overall, if you're looking for a quick and reliable method of transporting items around your workplace then you really can't go wrong with our selection of sturdy and reliable pallet trucks.
Put your faith in our forklift trucks
Forklift trucks are used to transport materials and goods on pallets or packs, and they're able to move these loads both horizontally and vertically. Our forklift trucks can be used on a variety of terrains, making them a common sight in warehouses and on industrial sites. So, here are the main benefits that having a forklift truck can offer you.
All terrain – our forklift trucks can offer you a range of advantages when it comes to lifting heavy materials. However, you'll want to choose the right one for the kind of work you'll be doing. For instance, if you're working outside on a job, you'll need a forklift truck with a bit more of a robust build to help you manage the terrain. Our AUSA C11M Rough Terrain Forklift is the perfect choice for working in tight agricultural and industrial applications.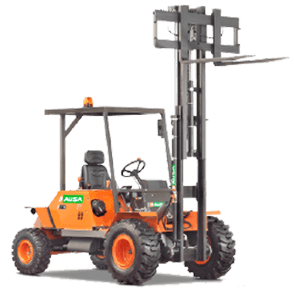 Able to lift an increased load – forklifts are great for transporting heavy materials around your premises, but the real advantage they offer is their ability to lift heavy loads up onto high places. A pallet truck is great for transporting materials over a short distance, but if you're looking to raise these items up to height (say if you're stacking heavy boxes in a warehouse or lifting building materials up to your colleagues on the roof of a small structure) then a forklift truck is by far the best option.
So, by adding some sturdy and reliable forklift trucks or pallet trucks to your operation, you can massively increase the efficiency of your staff. Manpower alone is fine, but there's only so much lifting and shifting that your team can do. A forklift or pallet truck can transport far more material in one journey, reducing the amount of time it takes to complete a job, while also reducing the risk of injury to your staff by taking the load off them.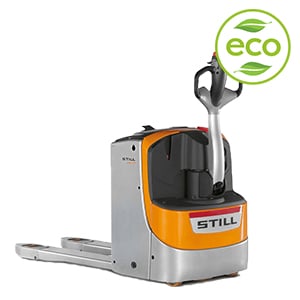 If you're interested in hiring either of these machines, then you're in exactly the right place here at Smiths Hire. We operate from 16 tool hire depots across the North West and Yorkshire, including several in major hubs like Manchester, Liverpool and Leeds. Plus, we also have our National Hire Centre based at our Head Office in Blackpool. That means we can supply total site solutions and tool hire to locations across the UK. Wherever you're based in the country, you can rely on us to supply you with everything you need to get the job done.