Chainsaws are incredibly powerful and useful tools, but they can also be very dangerous if not used properly. If you're planning to rent a chainsaw through our reliable tool hire service here at Smiths Hire, then it's crucial to ensure that you've taken all the vital safety precautions to protect yourself and those around you. That's especially true if using a chainsaw for the first time! So whether you're experienced or relatively new to this type of power tool, here's our essential guide to chainsaw safety that you can use to help you maintain a safe environment when operating one – whether that's for commercial use at work, or you're undertaking a bit of garden DIY at home.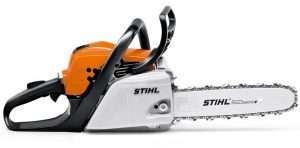 Top tips to keep in mind when using a chainsaw
Chainsaws don't require any specific licences or training to use, and that's partially why they can be so frequently underestimated. So, here are some key bits of advice you need to keep in mind if you're thinking about using our chainsaw hire service:
Wear the right protection – always wear proper safety gear when undertaking any chainsaw work. This includes a hard hat, safety glasses, earplugs, gloves, and chainsaw trousers. Chainsaw trousers are specially designed to protect your legs in case of a chainsaw kickback.
Check the chainsaw – before starting the chainsaw, make sure it's in good working condition. Check the chain tension, fuel level, and oil level. Above everything else though, make sure that the chain brake is working properly so you can activate it at a moment's notice if you need to.
Choose the correct chain and bar – make sure you use the correct chain and bar for the job you're doing. Using a chain that's too dull or too long can increase the risk of kickback, and therefore injury.
Clear the area you're working in – clear the work area of any tripping hazards or obstacles. Make sure there's plenty of room for you to move around and that no one else is in the immediate area, especially young children (if you're using the tool for garden DIY) as they can often be unpredictable and curious which is not ideal in this scenario.
Plan your cut – before making a cut, plan your approach and exit route for when you're cutting through a branch. If you're cutting down a tree, make sure you have a clear path to move away from the area as it comes down.
Use proper cutting techniques – always make sure you're familiar with proper cutting techniques, and that you're using them – including keeping both hands on the chainsaw, using a stable stance, and cutting at the appropriate angle. Avoid cutting above your shoulder height, as this can increase the risk of kickback.
Beware of kickback – kickback is one of the most common causes of chainsaw injuries. It occurs when the saw's chain catches on something, causing the saw to jump back toward the operator. To prevent kickback, keep the saw's tip from touching anything while cutting, and avoid cutting with the saw's tip.
Following these basic chainsaw safety guidelines can help ensure that you stay safe while using this powerful piece of equipment. Remember, safety should always be your top priority when using a chainsaw.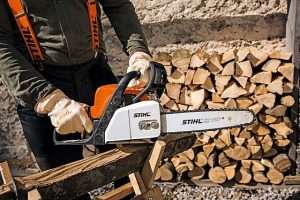 Chainsaw hire with Smiths Hire
Our range of tree maintenance equipment has everything you need to complete both DIY and professional tasks. With options available in petrol or electric models. We also have standard chainsaws as well as telescopic products that can reach branches up to 5m high. Whether you are pruning trees, cutting wood for the fireplace or removing dead wood, we're sure to have the right tool for the job. Ready to hire a chainsaw?
We've been providing quality equipment and tool hire services to the DIY and trade sectors for more than half a century, operating from 16 tool hire depots across the North West and Yorkshire, including several major cities like Manchester, Liverpool and Leeds. If you're not sure what to go for, feel free to give our team a call on 0333 323 2100 for any additional guidance. We're here to help!