Once you've made the decision to hire a cherry picker, you'll be happy to know that it's not a complex process. Indeed, with more than 50 years of experience behind us here at Smiths Hire, we do everything we can to make it as easy and straightforward for you as we can. Throughout all our years in business, we've fielded all sorts of questions from our customers about the cherry picker hire process, and to save you a bit of time we've summed up some of the top answers in our Powered Access FAQs.
One of the most common questions we get asked is – what do I need for cherry picker hire? Now, obviously certain specifics will probably depend on the nature of your working environment and application; you might need to consider things like traffic management, weather, stability (i.e. flat / uneven ground) or appropriate lighting if you're working in the dark. As far as the cherry picker itself goes though, you'll generally be pretty well-prepared as long as you've addressed the following!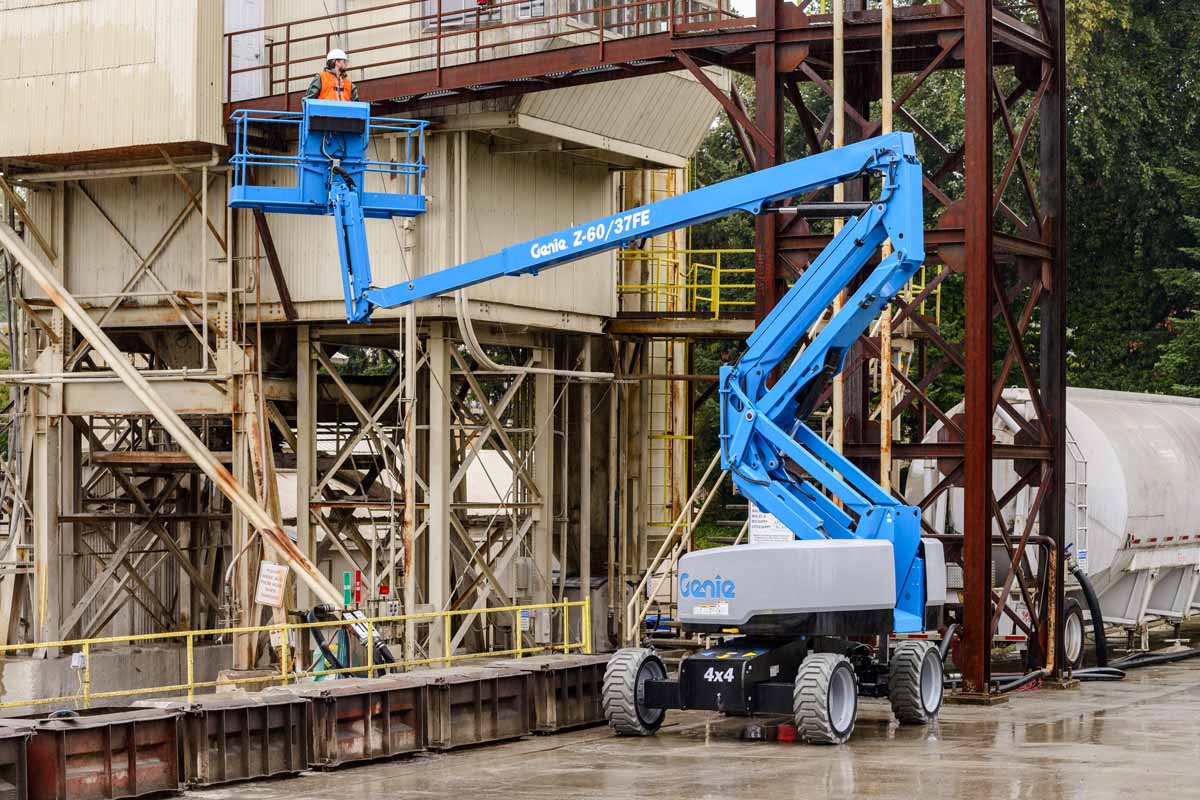 Do I (or anyone on my staff) have the right qualifications to operate a cherry picker?
Cherry pickers can only be operated by staff who hold the appropriate licence, so if you don't have anyone on staff with the right experience and qualifications, then you won't be able to proceed until you've got access to someone who does.
Happily, that's yet another area in which we can help here at Smiths Hire. We provide IPAF (cherry picker) training in the form of weekly training sessions across six of our depots, covering Blackpool, Preston, Lancaster, Castleford, Warrington and Manchester. We've also partnered with several external providers to enable us to provide this training nationwide – so no matter where you are in the UK, you can count on us to help.
If you've got any queries about our training services, it's worth taking a quick look at our Training FAQs.
Do I need permits for my working environment?
If your work is scheduled to take place in a public area, you may well need a permit from your local council. The cost of a permit varies from council to council, as does the time they often take to be issued. Some can be as little as £27 per day (such as in the London Borough of Bromley) whereas others can run well into the hundreds of pounds.
Since they may take some time to come through, this is definitely something to consider as early as you can, alongside the training qualifications question we've detailed above. At the bare minimum you should apply for a permit at least a week or so in advance, but it's generally safest to give it a month or so, or even earlier if possible. You'll be able to specify the relevant dates for the duration of your work when you're filling out your application, which you can normally do directly through your local council's website.
Will I need to pay a deposit?
You'll need to pay a deposit when you hire from us here at Smiths Hire, just as you would with the vast majority of other hire companies. That's because you're effectively hiring a service, rather than simply hiring a piece of equipment.
However, we always make sure to keep our deposits cost-effective, so you don't need to worry about any prohibitive extra costs when you come to hire your equipment.
You can find out more information about our deposits in the Payment section (Section 4) of our Terms and Conditions.
How is the cherry picker insured?
The cherry picker will normally be covered under your plant insurance policy, if you hold one. If so, we'd simply ask for a copy of your policy for our records.
What if I don't have plant insurance?
For various reasons, not all of our customers hold plant insurance, so if that applies to you then don't worry! We can provide peace of mind with Smiths Hire Protect, which is essentially our own Damage and Loss Waiver. Choosing this option just involves paying a small percentage of your net hire charge. In return, you'll be comprehensively covered against loss or damage of the equipment anywhere in the United Kingdom until you hand the goods back to us.
For more information on insurance, feel free to check out the Risk, Ownership and Insurance section (Section 5) of our Terms and Conditions.
For more information on our Damage and Loss on the other hand, just click on Smiths Hire Protect.
How can I be sure I'm getting the right cherry picker for the job?
This is another crucial question it's worth asking, and one that it's easy to initially overlook. You can make the most of your available budget by double-checking that you're hiring a cherry picker that's ideally sized for the job at hand, so you're not overspending by hiring one that's too large, or causing yourself any annoyance on the day by finding out that it's not quite big enough to do what you need it to.
We'd recommend taking a look at the official International Powered Access Federation website, as it's an excellent source of the various licensing requirements, and we frequently consult it ourselves here at Smiths Hire.
Of course, if you're unsure of exactly which equipment it is that you'd require for your site, then please contact us for advice. If necessary, we can even arrange a site survey (location dependent) – you can count on us to know exactly what type of equipment would be perfect for your project.
With more than half a century of experience behind us providing tool hire and powered access equipment services, we operate from 16 tool hire depots across the North West, including several in major hubs like Manchester, Liverpool and Blackpool. What's more, we supply powered access machines to businesses nationwide – so no matter where you're based in the UK, you can count on us to be able to help.
If you've got any further questions or you need a bit of expert advice, don't hesitate to get in touch with us – feel free to call us on 0333 323 2100, and we'll be happy to help however we can!