We are proud to offer an extensive range of site welfare facilities, including:
Towable welfare units
Stackable site accommodation
Welfare vans
Portable toilets
Toilet blocks
Hygiene equipment
Storage units
Office units
Canteen units
Drying rooms
Site accessories
Whether you are hiring temporary facilities for a construction site or for an outdoor event, we are confident that we have just the right solution.
UK legislation on what welfare facilities are required on site
For construction sites, the law states that employees must have access to a specific range of welfare facilities whilst at work, namely:
toilets and washing facilities
fresh drinking water
a place to warm up and eat
somewhere to dry clothing and store clothes and other belongings
Good onsite facilities will benefit the health and wellbeing of employees and can help to prevent dermatitis and other medical issues. To find out more about complying with what welfare facilities are required on site, click here for the Health & Safety Executive (HSE) guidelines on the 'Provision of Welfare Facilities during Construction Work'.
Is it necessary to provide an onsite office?
In brief, it is a legal requirement to provide a suitable office space onsite. Regulation 17.4 of the Construction (Design and Management) Regulations 2015 (the CDM Regulations) states that:
'A construction site must, so far as is reasonably practicable, have sufficient working space and be arranged so that it is suitable for any person who is working or who is likely to work there, taking account of any necessary work equipment likely to be used there.'
Our self-contained office units are available in a range of sizes: 10ft x 8ft, 20ft x 8ft and 32ft x 10ft. These mobile units provide a clean and professional workplace environment and are ideal for use on building sites or outdoor events venues. These units can be double stacked with the addition of a staircase.
What type of site welfare units are available?
Our flexible site accommodation unit hire provides essential onsite facilities for a variety of circumstances. From outdoor events to lengthy construction projects, we have you covered.
Our site accommodation solutions include:
Secure, towable site welfare units – include LED lights, heating, and hot water. As well as sockets to power laptops and charge mobile phones. Not to mention toilet facilities and full canteens all in one unit. 6-man and 10-man units available.
Portable toilets and toilet block units – various options, depending on your site's requirements. Ventilated, hygienic, and easily moved, our toilets can be connected to mains sewage or a waste tank.
Accommodation units – our secure anti-vandal units are available in a range of sizes. The units can be hired on a short or long term basis. Options include storage unit, site office, canteen unit, and dry room. We offer variable configurations to meet your site and team's needs. Stacked units can be linked with stairs or can be configured to create a compound.
Site accessories – the convenient 'extras' that your site needs, from sound-blocking acoustic barriers and gas cylinders to boot wash stations and defibrillators.
Hygiene equipment – handwashing stations and waste tanks, to keep onsite hygiene standards high.
We also have a convenient welfare van…
What is a welfare van?
Our new 8-seater welfare van is a truly mobile onsite facility. Features include:
unisex toilet cubicle
electric cooking unit including microwave
electric hot water facility for drinks
independent central heating
hot and cold hand wash facilities
conference-style table for seating area
wet clothes storage area and drying room
Our welfare van is best suited to shorter term hires, providing mobile welfare for events on larger sites.
Why choose Smith Hire for site welfare unit hire?
We are one of the biggest independent hire companies in the Region. We pride ourselves on supplying our clients with a range of high quality site welfare units and facilities, nationwide, and:
we offer competitive prices
we deliver next-day, or sometimes even same-day delivery
we only supply the most reliable and trusted brands
our equipment is maintained to the highest standard
no job is too big or too small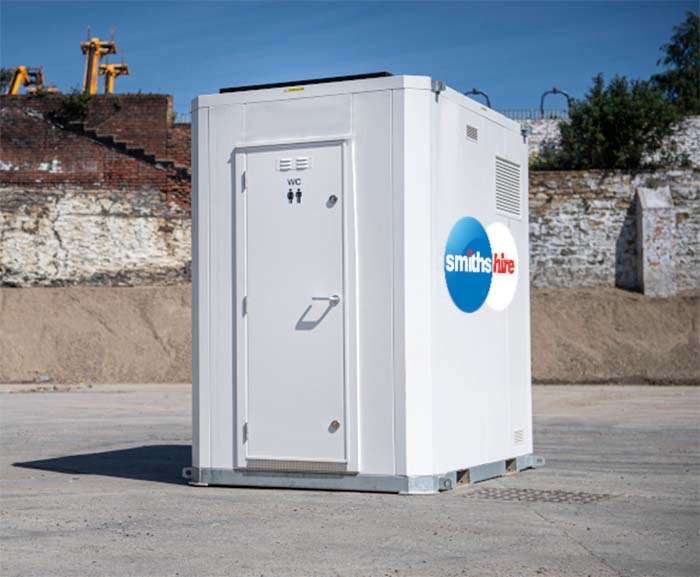 As well as site facilities and welfare units, Smiths Hire is a leading access, plant, and tool hire company. Operating for over 50 years, we have an extensive range of high quality equipment for hire, on a flexible basis to meet your project requirements.
Need some expert guidance on what welfare facilities are required on site? Whatever your question, our friendly National Hire team will be happy to offer their advice on the best solution for you. Please call us today on 0333 323 2100 to discuss your site welfare unit requirements and receive a free quotation. We look forward to hearing from you.