Festivals are vibrant and dynamic events that attract large crowds, so it's no secret that they require such meticulous planning and execution. Scissor lifts are among the many tools and pieces of equipment utilised behind the scenes, playing a crucial role in ensuring a smooth and successful festival experience. These versatile machines provide elevated access to various areas, allowing for efficient setup, maintenance, and overall event management and with different fuel options (Diesel / Electric) available making them ideal for both indoor and outdoor use.
So, if you're in the midst of planning your own event, we've outlined a few of the top uses for the scissor lift hire service from Smiths Hire at a festival, and how it can help create unforgettable moments for your guests

Stage setup and lighting
Scissor lifts – also known as MEWPs (Mobile Elevated Work Platform) or AWPs (Aerial Work Platforms) – are indispensable when it comes to stage setup and lighting arrangements. For example, lifting crew members and equipment to elevated heights is vital for this task, and our scissor lifts enable efficient installation of stage components, such as trusses, scaffolding, and lighting fixtures. The flexibility and stability of scissor lifts make them ideal for safely positioning technicians, ensuring optimal sound, and lighting coverage throughout the festival grounds. Essentially, it's nearly impossible to set up a stage without scissor lifts or powered access machines, and if you have no stage, you have no festival.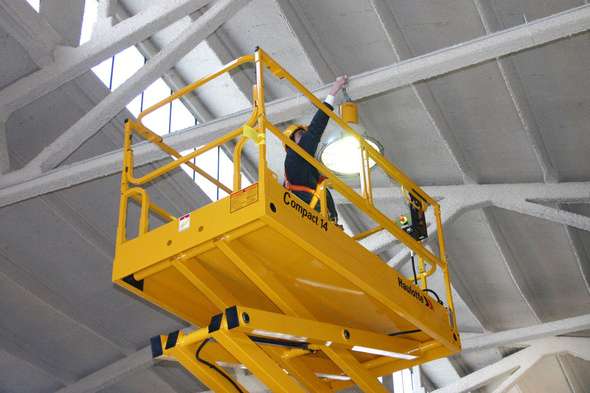 Video screen installation
Large video screens are common features at festivals, providing revellers with captivating visuals and enhancing the overall experience. Scissor lifts are essential for mounting and positioning these screens, allowing the audience to enjoy clear visibility from various angles. Festival organisers can optimise screen placement, ensuring maximum impact and engagement for spectators by utilising scissor lifts. This is a sure-fire way of ensuring everyone at the event is able to enjoy the acts on stage, as there's nothing worse than turning up to see your favourite act without even being able to catch a glimpse of them.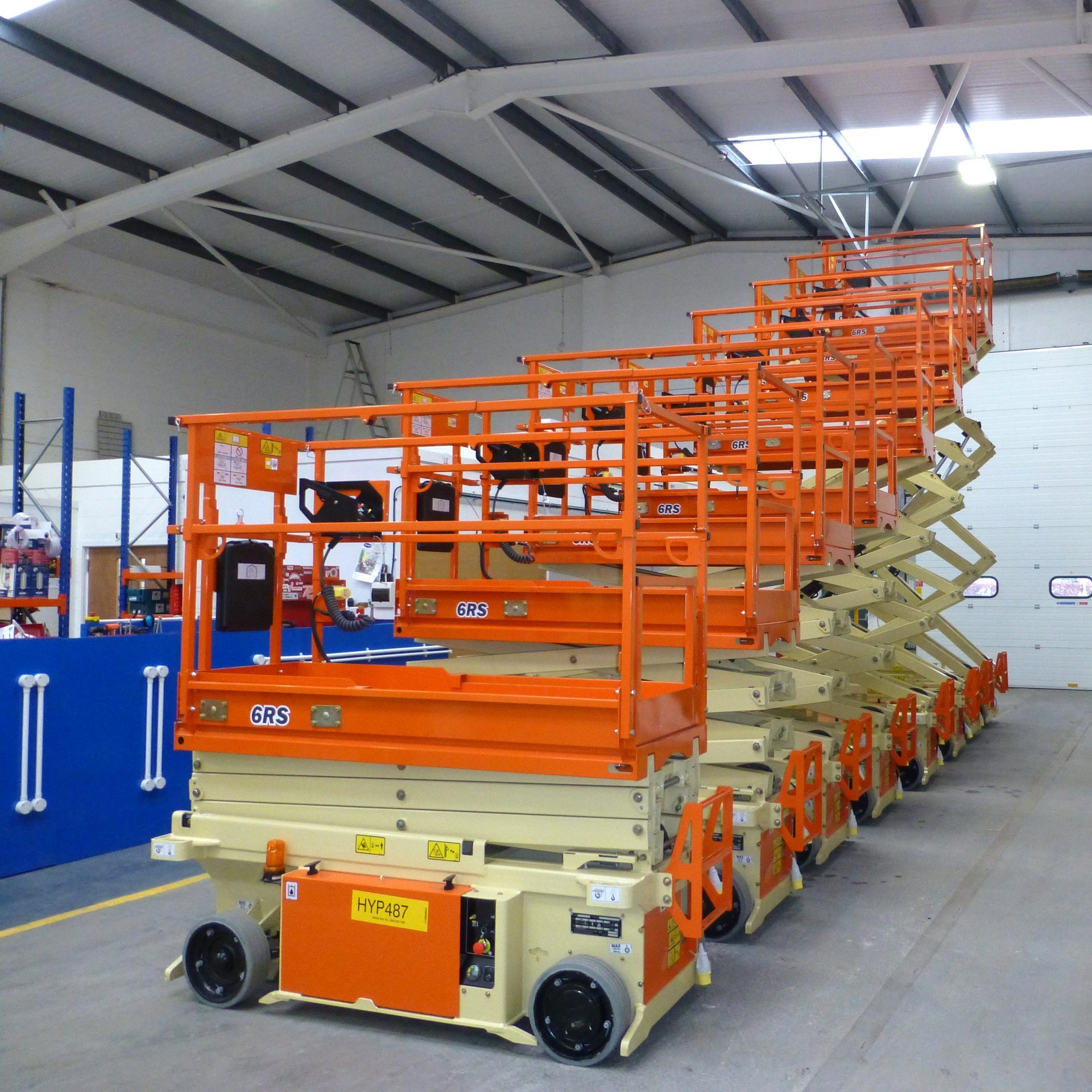 Rigging and equipment maintenance and inspection
Scissor lifts are invaluable for site inspections and planning, both before and after the festival. Staff can use these lifts to survey the festival grounds, assess the structural integrity of any buildings and identify potential hazards. Scissor lifts aid in determining ideal locations for stages, vendor booths, restrooms, and other essential infrastructure, ensuring an organised and safe festival experience for all.
Behind the scenes, scissor lifts can also serve as versatile tools for rigging and equipment maintenance. Crew members can utilise these lifts to hoist heavy objects, such as speakers, projectors, and cameras, onto trusses or other elevated structures. Furthermore, scissor lifts provide easy access to these installations for regular maintenance and adjustments, ensuring uninterrupted performances throughout the festival.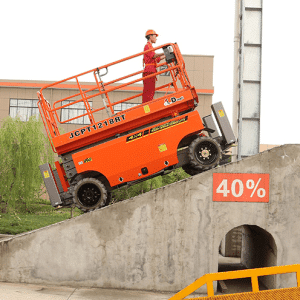 Crowd control and security
The safety and security of festival attendees is always paramount, and scissor lifts offer an advantageous vantage point for security personnel to monitor crowds and respond promptly to any potential issues. These lifts provide a stable platform for surveillance cameras and enable effective crowd management, allowing security teams to maintain order and swiftly address any concerns that may arise. All in all, scissor lifts are versatile and indispensable tools for festival organisers, and play a vital role in creating a memorable and enjoyable experience for festival attendees. And if you need some scissor lifts to help you bring your festival to life, you're in exactly the right place.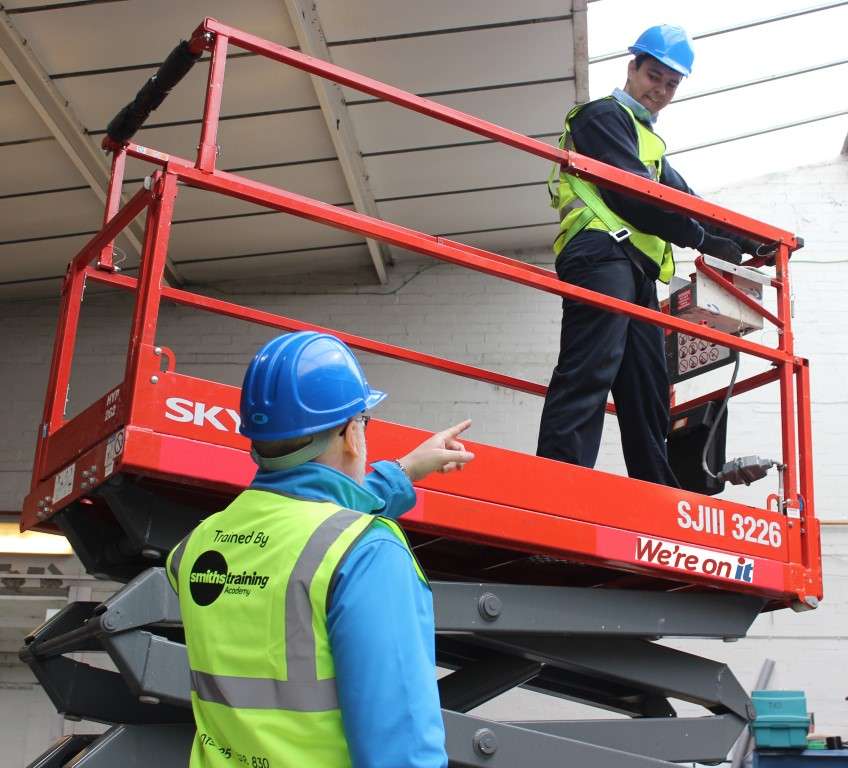 At Smiths Hire, we've been providing quality equipment and tool hire services to the DIY and trade sectors for more than half a century, operating from 16 tool hire depots across the North West and Yorkshire, including several in major hubs like Manchester, Liverpool and Leeds. Plus, we also have our National Hire Centre based at our Head Office in Blackpool. That means we can supply our event services to locations across the UK.
Be sure to get your orders in soon though, as this time of year can be particularly busy for our events hire services! If you have any questions regarding any of our products and services, then feel free to give our team a call on 0333 323 2100.
And if you need training or licence renewals to operate your scissor lift or other powered access machines then visit Smiths Hire Training to view our full range of in-depot and e-Learning training courses.