The festive season is just around the corner, so it's time to start thinking about bringing the Christmas spirit to your business with some vibrant decorations! Typically, many workplace Christmas decorations consist of some tinsel and the odd Santa hat knocking about, which does the job for the most part, but here at Smiths Hire, we believe in taking Christmas decorations to new heights (literally).
How can you do this? Well, with our prompt and reliable cherry picker hire, you can easily turn the large fir tree on your work premises into a festive feast for the eyes. So, how can our cherry pickers benefit you when trying to create the perfect Christmas tree?
Why would I use a cherry picker to decorate a Christmas tree?
You're probably already aware of the benefits that a cherry picker can offer you on-site. But how do these benefits apply to the context of putting up a large Christmas tree?
• High outreach capability – our cherry pickers allow the operator to reach significant heights with minimal risk to their safety (provided the operator has been trained to use the equipment). Our range of cherry pickers come in a variety of sizes, allowing you to choose exactly the right kind to suit the tree you intend to decorate. We can provide van mounted cherry pickers which can help you decorate trees anywhere within the range of 16.5m, or if you need something a little bigger, our truck mounted cherry pickers can help you reach heights of up to 70m.
• Mobility – the design of our cherry pickers allows for maximum mobility when compared to equipment like ladders and scissor lifts. Where these other pieces of access equipment can only be deployed straight up, cherry pickers afford the allow to move in a variety of ways, making them far more effective for applying tinsel and lights around the tree.
• Safety – provided the operator has received adequate training and the right equipment to match (safety harnesses and a helmet to name a couple) cherry pickers are one of the safest forms of powered access equipment. The cage significantly reduces the risk of falling, making them the ideal piece of equipment for decorating a large Christmas tree.
The best ways to decorate your huge Christmas tree
Of course, we all have our own preferences when it comes to decorating Christmas trees, so by all means have at it with whatever you like! If you're looking to create that classic Christmas look and feel though, there are definitely a few staple features of Christmas tree decorating that are worth sticking to.
• Baubles – an undeniable Christmas classic. Granted, these baubles will need to be pretty big if they're going to match the size of your tree. We'd recommend aiming for a variety of coloured baubles like red, green and gold to really bring out the Christmas spirit. As a side tip; try to opt for baubles that vary in size, and place the larger ones near the bottom of the tree, with the smaller ones taking the top spot, as this creates a really nice even aesthetic for your tree.
• Tinsel – Bring some sparkle to your tree with some long lengths of tinsel. Tinsel is a simple and easy way to add colour to your tree, but it's best to use it sparingly. You don't need to overload your Christmas tree with it.
• Light it up – lights are an integral part of how your Christmas tree looks. Make sure you have enough Christmas lights to wrap around each layer of branches, starting at the bottom and working your way up to the top.
So, that should give you a few decent ideas – now all that's left for you to do is pick out a cherry picker!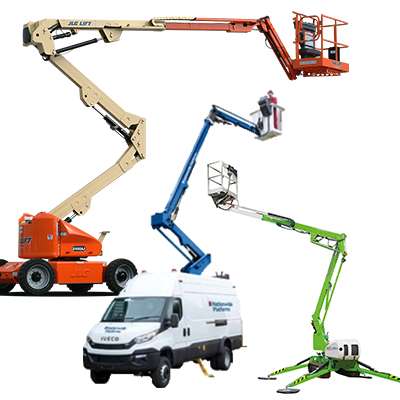 At Smiths Hire, we stock a wide variety of cherry picker options including the ones we've mentioned above, so if you're looking for a reliable, trustworthy hire company who can provide you with an outstanding service and offer you machinery that you can rely on, please don't hesitate to get in touch with a member of our team.
With more than half a century of experience behind us providing tool hire and powered access equipment services, we operate from 16 tool hire depots across the North West, including several in major hubs like Manchester, Liverpool and Blackpool. What's more, we supply powered access machines to businesses nationwide – so no matter where you're based in the UK, you can count on us to be able to help. If you've got any further questions or you need a bit of expert advice, don't hesitate to get in touch with us – feel free to call us on 0333 323 2100, and we'll be happy to help however we can!