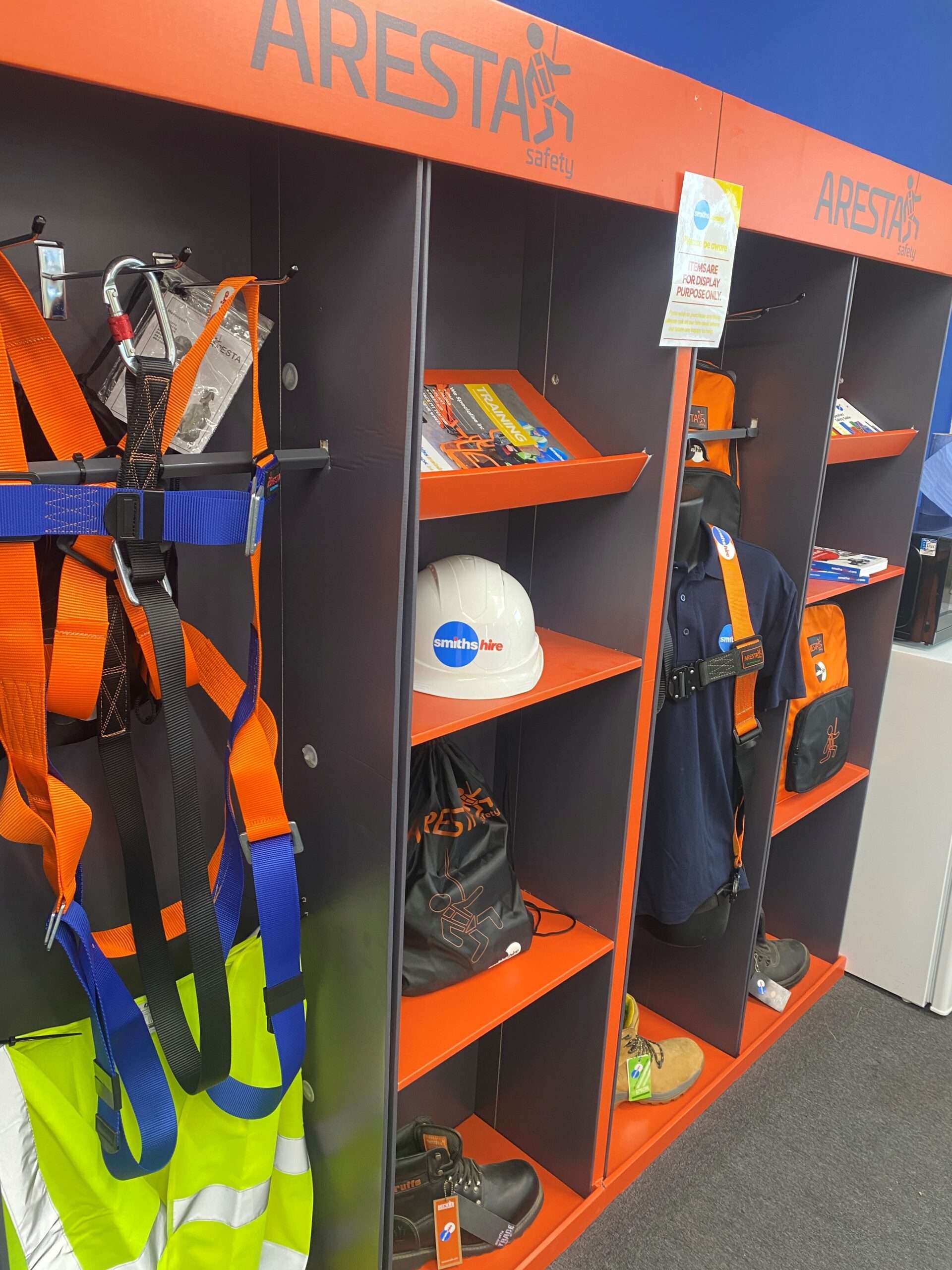 Here at Smiths Hire we take safety and safety equipment very seriously. This is why we have our own dedicated in-house Training department – Smiths Training.
Smiths Training are pleased to introduce a new collaboration with Aresta Safety to provide branded Harness Kits for our customers –
Aresta's safety equipment is the result of extensive global research, innovation and a design ethos to create a harm-free environment for those in the Fall Protection Safety industry.
Making this the perfect partnership for Smiths Training given that we share the same core values for protecting employees on site through training, performance and quality.
The new Smiths Hire branded Harness Kits are currently available to purchase via our Training Team or at our Preston depot but will be rolled out across the total of our 16 depot locations in the next few months.

While there's no legal requirement for wearing harnesses at height, they're strongly recommended – particularly for boom lift operators – to help protect you from fatal falls.
When operating MEWPs such as mobile or static booms, you are recommended to wear a harness, to protect you from falls, as well as a valid IPAF licence.
To ensure the safe use of powered access equipment, all operators should be properly trained. IPAF training from Smiths Training is the best way to ensure you can safely work at height. Theory and practical based training teach operators and supervisors about their legal responsibilities and those of their employers, as well as how to safely operate a MEWP. Successful trainees receive a Digital PAL Card (Powered Access Licence) which is accepted around the world as proof of safety and competency when operating the relevant powered access equipment. View the IPAF Fall Protection Guideline here.
The training courses (IPAF 1b/3a/3b) are available at 6 of our depot locations but we can also offer on-site training for your company should you need this too. And we now also offer the IPAF Harness Training course too, which means that you can inspect your own harnesses in-house, ensuring that they are safe to use while avoiding the extra cost and hassle of sending them off for inspection.
Plus, if you pre-order your Harness Kit with your training you can buy them at a cheaper rate!
Check out our Course Availability and find a Training Centre near you at Smiths Training. Alternatively, call our Training Hotline on 0333 323 2022 or send us a message today.