To mark the start of Women in Construction week (5th -11th March) we are celebrating the wonderful women who help keep Smiths Hire operational on a daily basis. Now, although they aren't strictly construction workers, we do supply key hire services to the construction industry so we think that this counts and also gives us the opportunity to highlight our female-identifying team members too.
Women in Construction Week traces the history of women in construction, their challenges, and the ways they've been able to overcome them. The holiday is observed to appreciate the women who have taken the bold step to enter the construction industry, and also to encourage those willing to make similar commitments.
Did You Know?
That 12% of our Smiths Hire workforce is made up of women. This is on par with the National average of Women in Construction and our number is growing every year.
Gone are the common misconceptions that construction-based jobs are solely about gender-specific roles and each year we see an increase in the number of women choosing a career in tool hire specifically.
Read the testimonial of Charlotte Holehouse who is a Sales Hire Controller at our Warrington depot…..


Irrespective of gender, we have been shunning the stereotypes for many years as a company and operate within an environment where staff feel valued, happy and have the possibility for career progression should they want it. The key HIREFUL characteristics within our recruitment process are not gender specific and all we hope is that a potential candidate is helpFUL, respectFUL, colourFUL and skillFUL to name but a few!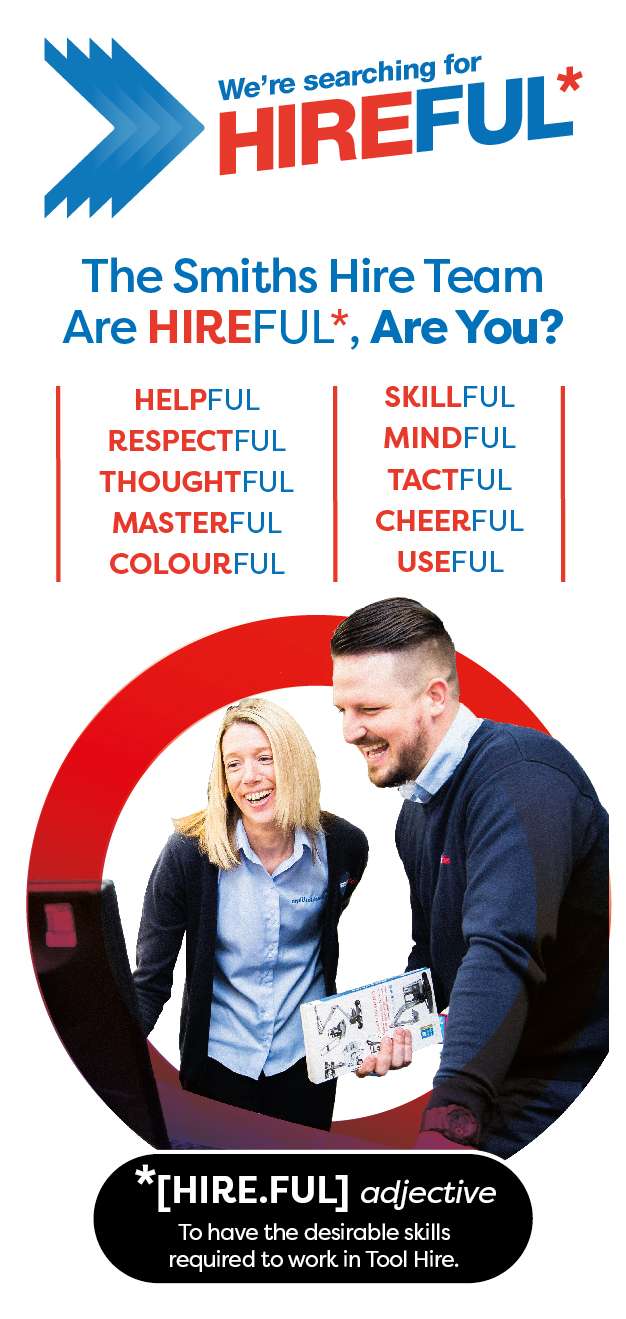 We have women undertaking a variety of crucial roles in the Smiths Hire engine – from Hiredesk Controllers both in depot and at Head Office to HR and Recruitment as well as roles in our Training department & Marketing teams.
We are constantly evolving and rejecting old-fashioned attitudes so that more people can reap the rewards and benefits of working in the hire industry, now more than ever is a great time to be a part of it!
Read the testimonial of Charlotte Hole house who is a Sales Hire Controller at our Warrington depot…..
If you are interested in a career in Tool Hire then contact Katie, our Internal Recruiter today and be a part of the Smiths Hire revolution – recruitment@smithshire.com or check out our current vacancies – Smiths Hire Careers.