Your Hires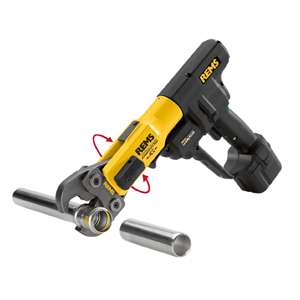 REMS Cordless Pressing Tool 12v (max. 35mm)
REMS Cordless Pressing Tool 12v Hire
Universal, handy electric tool with switch-off signal for producing pipe pressing joints for all common press fitting systems, pressing joints Ø 15mm – 35mm*.
For reliable service, operating and functional safety. A perfect joint is achieved when pressing tongs close completely. Acoustic signal after successful completion of pressing operation. The pressing tongs remain in a closed position until reset button is pushed and releases. This way, the perfect pressing joint (completely closed pressing jaws) can be observed.
Drive
Enormous thrust and pressing force for fast and perfect press jointing. Powerful electro-hydraulic drive with powerful battery motor 14.4 V, 380 W output, robust planetary gear, eccentric reciprocating pump and compact high power hydraulic system. Safety tip switch.
Product Features:
Compact, handy, light.
Works anywhere, freehand, overhead, in confined areas.
Li-Ion battery technology.
Charging status indicator with 2-coloured LED.
Pressing operation by touch-control.
Drive unit with battery only 4.3 kg.
Optimum weight distribution for single-hand operation.
Ergonomically shaped housing with recessed grip.
*Extension kit available to hire separately which will enable the pressing of joints at Ø 42mm & 54mm – Pressing Ring Kit 42mm-54mm
*Please note that video shows a variety of REMS products and the features will vary between models*
Discounted Web Rates:
Ex VAT & Delivery
Additional Day rate
£23.37
Jaw Size

15mm - 35mm *additional kit required to extend to 42-54mm*