Your Hires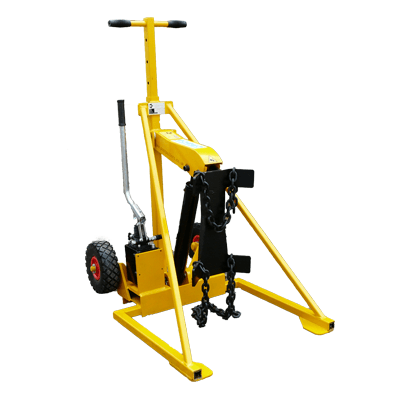 Fence Master M730 Fence Post Puller
Fence Master M730 Fence Post Puller
This Fence Master M730 Fence Post Puller is designed to ease the removal of fence posts of all shapes and sizes: from fence posts, street signs, gate posts to highway barrier posts.
The M730 Post Puller is standard equipped with a manually operated hydraulic pump and is fully self-contained.
Digging is a thing of the past. This saves a lot of hours of work and saves not only money, but also your energy.
Used by fencing, earthworkers, road builders and gardeners alike, the Fence Post Puller is the best in class innovative removal system and saves you hours compared to manual excavation.
It removes piles with black concrete foundations, this job can be done within minutes. With a pulling force of 4000 kg, it can remove bases with a diameter of up to 600 mm.
Product Features:
Removes piles with black concrete foundations within minutes.
Pulling force of 4000 kg
Removes bases with a diameter of up to 600 mm
Special claw attachment makes the removal of broken or rotted posts easy (available for hire separately)
Profiled wheels on the machine make it possible to drive away the post with foot
Max. diameter footing

600mm
Web Price:
Ex VAT & Delivery (if applicable)
Day hire rate
Was £127.50
£72.50
Additional Day rate
Was £63.75
£36.25
Weekend hire rate
Was £159.38
£90.65
Week hire rate
Was £255.00
£145.00
Fence Master M730 Fence Post Puller in action