Your Hires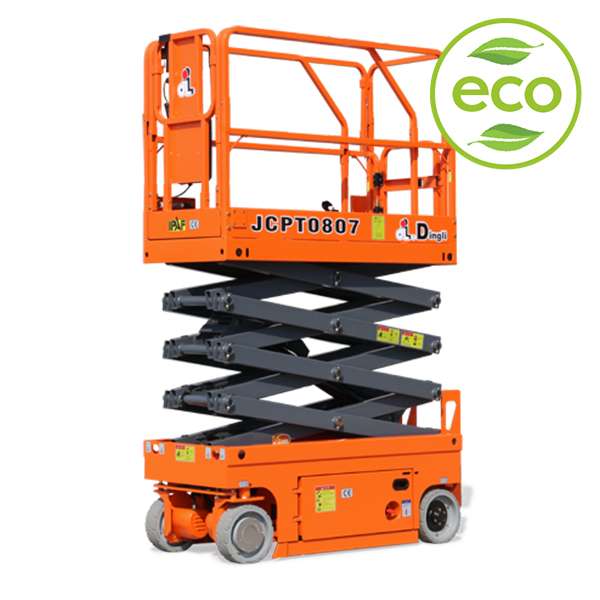 7.8m Electric Scissor Lift – Dingli JCPT0807PA (Oil-free)
Hire Information
In order for you to book this equipment for hire you must first specify the following information:
The date you wish to start hiring
The date you wish to finish hiring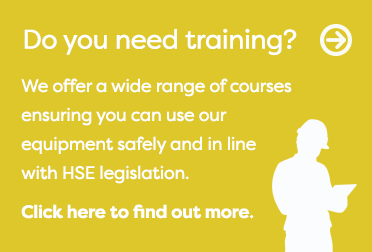 7.8m Electric Scissor Lift - Dingli JCPT0807PA (Oil-free) Hire
New to fleet: the Dingli JCPT0807PA (Oil-free); 7.8m Narrow Width Electric Scissor Lift, features the World's first oil-free and all-electric scissor series using electric actuators instead of traditional hydraulic cylinders.
Low energy consumption, the total transmission efficiency of the direct motor drive systems reaches 95%, more than 30% energy saving compared with the traditional hydraulic system.
Offering safer, higher levels of water and dust resistance, with built-in position sensors and real-time data monitoring of the full stroke. The synergistic drives enable temperature, load, and variable torque control, offering high active safety.
With easy maintenance, no hydraulic system, means you avoid system problems such as valve core stuck, oil leakage, oil change, high and low temperature efficiency reduction. The JCPT0807PA is equipped with maintenance-free permanent magnet synchronous motor and AGM battery, which greatly reduces maintenance costs.
A comfortable, full stroke proportional control eliminates the jitter and abrupt feeling caused by self-gravity lowering of the hydraulic system, providing a better experience.
Dingli JCPT0807PA (Oil-free) Product Features:
Proportional Joystick Controls
Self-Locking Gates
One-Way Platform Extension Deck
Drivable At Full Height
Non-Marking Tyres
Two-Wheel Drive
Two-Wheel Steering
Automatic Braking System
Emergency Descent System
Onboard Fault Diagnostic System
Tilt Alarm
Motion Alarm
Horn
Hour Meter
Safety Arm For Troubleshooting
Standard Transport Forklift Holes
Charging Protection System
Flashing LED Beacon
Foldable Guard Rails
Automatic Pothole Protection
Drive Enable
Charging Indicator
Manual Brake Release
Lanyard Attachment Point
Tie-Down And Lifting Points
Platform Load Sense System
Emergency Stop Button
View the product information for the 7.8m Electric Scissor Lift – Dingli JCPT0807PA (Oil-free)
DISCOUNTED WEB RATES
FROM £112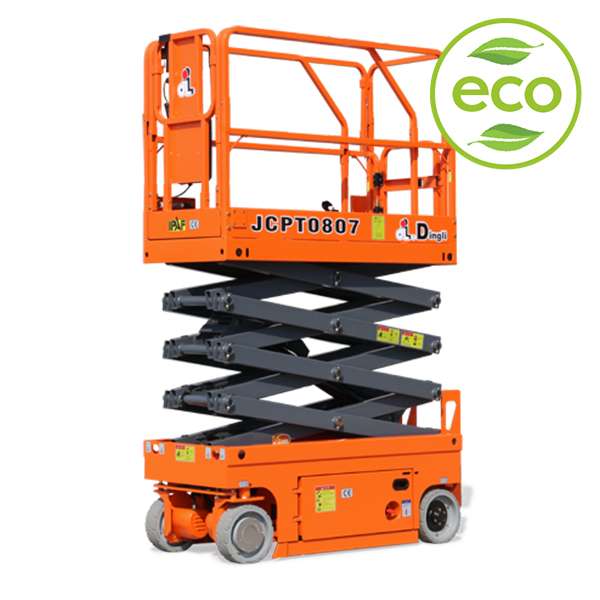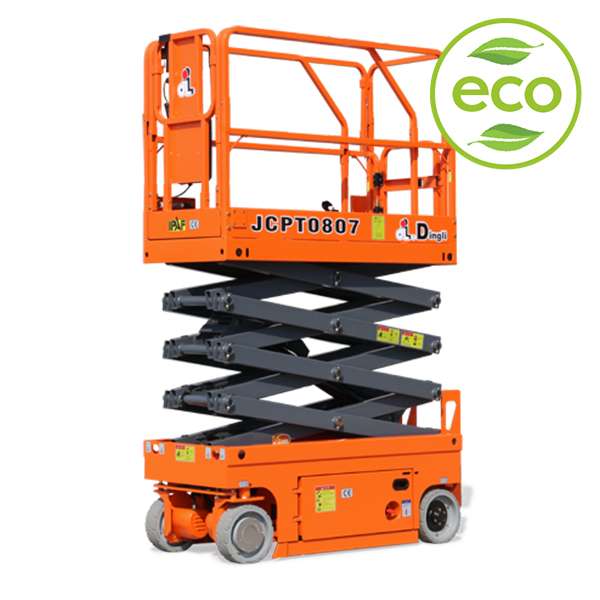 Max. Platform Height

5.80m

Length

1.86m (without outriggers)

Platform Size (Length x Width)

1.67m x 0.74m

Platform extension size

0.90m

Stowed Height (rails up)

2.15m

Stowed Height (rails down)

1.83m

Driving motor

2x 24VDC / 0.5kW

Lifting motor

24VDC / 1.4kW