Your Hires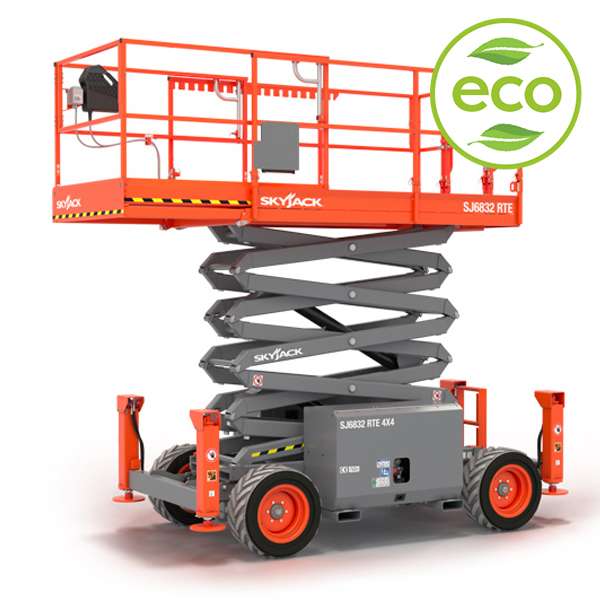 11.75m Electric Rough Terrain Scissor Lift – Skyjack SJ6832RTE
Hire Information
In order for you to book this equipment for hire you must first specify the following information:
The date you wish to start hiring
The date you wish to finish hiring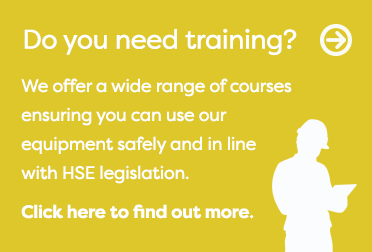 11.58m Electric Rough Terrain Scissor Lift - Skyjack SJ6832RTE Hire
The Skyjack SJ6832RTE; 11.75m Electric Rough Terrain Scissor Lift – boasts an impressive platform capacity, when extended to a total length of 4.11m as well as industry-leading gradeability of 45%.
With crossover symmetrical 4WD, the Skyjack SJ6832RTE delivers maximum torque to all wheels providing superior terrain performance.
The zero emissions 16HP brushless AC electric motor provides instant torque and high power. With smart battery power, the standard 250Ah deep cycle batteries provide more than ample power for a typical work day. The multi voltage "Smart charger" with LED display automatically adapts to input voltage and displays charging information.
Skyjack SJ6832RTE Product Features:
Drivable at full height
Relay based control system
Overload sensing system
Standard Skyjack colour coded and numbered wiring
Shroud style, impact resistant composite control box with extended cable
Proportional controls for drive and lift functions
Tilt alarm (4.5° x 2.5°) with drive and lift cut-out
Lift up side doors for easy access
16hp AC Electric motor with motor controller
48V 250Ah Battery pack with low voltage protection
Universal smart charger
Crossover symmetrical 4WD
Foam filled grip lug non-marking tyres
45% Gradeability
Multiple SAHR holding brakes
1.52 m Roll out extension deck
Fold down hinged railings
Full height spring hinged entry gate
Lanyard attachment points
Wiring for AC outlet at platform
Forklift pockets and tie down / lift lugs
Emergency lowering system
Arm guard with slow close descend
Flashing light
Operator horn
Telematics ready
View the product information for the 11.58m Rough Terrain Scissor Lift – Skyjack SJ6832RTE
DISCOUNTED WEB RATES
FROM £220.00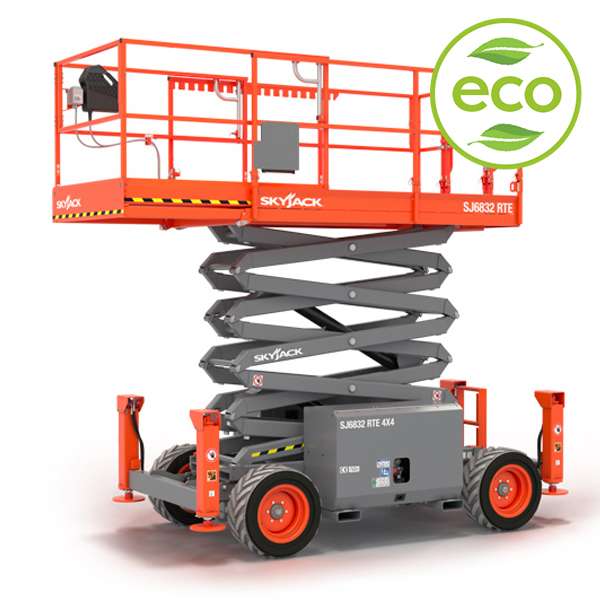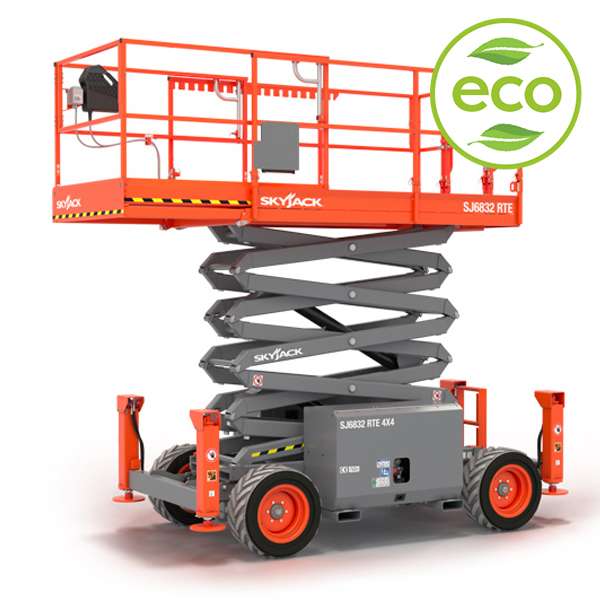 Max. platform height

9.75m

Stowed height (rails up)

2.51m

Stowed height (rails down)

1.75m

Platform size (L x W)

2.44m x 1.42m

Platform length extended

4.11m

Platform extension size

1.52m