If you're new to powered access, however, choosing the right one can be difficult and slightly daunting. Do you need a scissor lift, telescopic boom or perhaps a vertical mast boom? What does maximum height actually mean? Where is it measured from? Can anyone hire powered access equipment?
The list of questions you may have is a long one. Fear not, though. We've put together this guide on Powered Access Hire to make sure you know what you're looking for.
Don't forget, if you're ever unsure, you can always discuss any job with one of our expert 'hire it centre' team who have a vast range of knowledge on all things hire and will be happy to help.
Click on a chapter to auto-scroll straight to it.
What do Powered Access Machines Do?
Let's start with the basics. What would you need to hire a powered access machine for?
The short answer is anything that requires working at height. This could be repairing fascias, fixing roofs or hanging Christmas decorations.
Commonly used by builders and electricians. Access machines like Cherry pickers are also used in film making (for aerial shots), the fire service and a huge variety of other businesses. As mentioned in the introduction, this type of equipment offers the safest and most efficient way of working at height.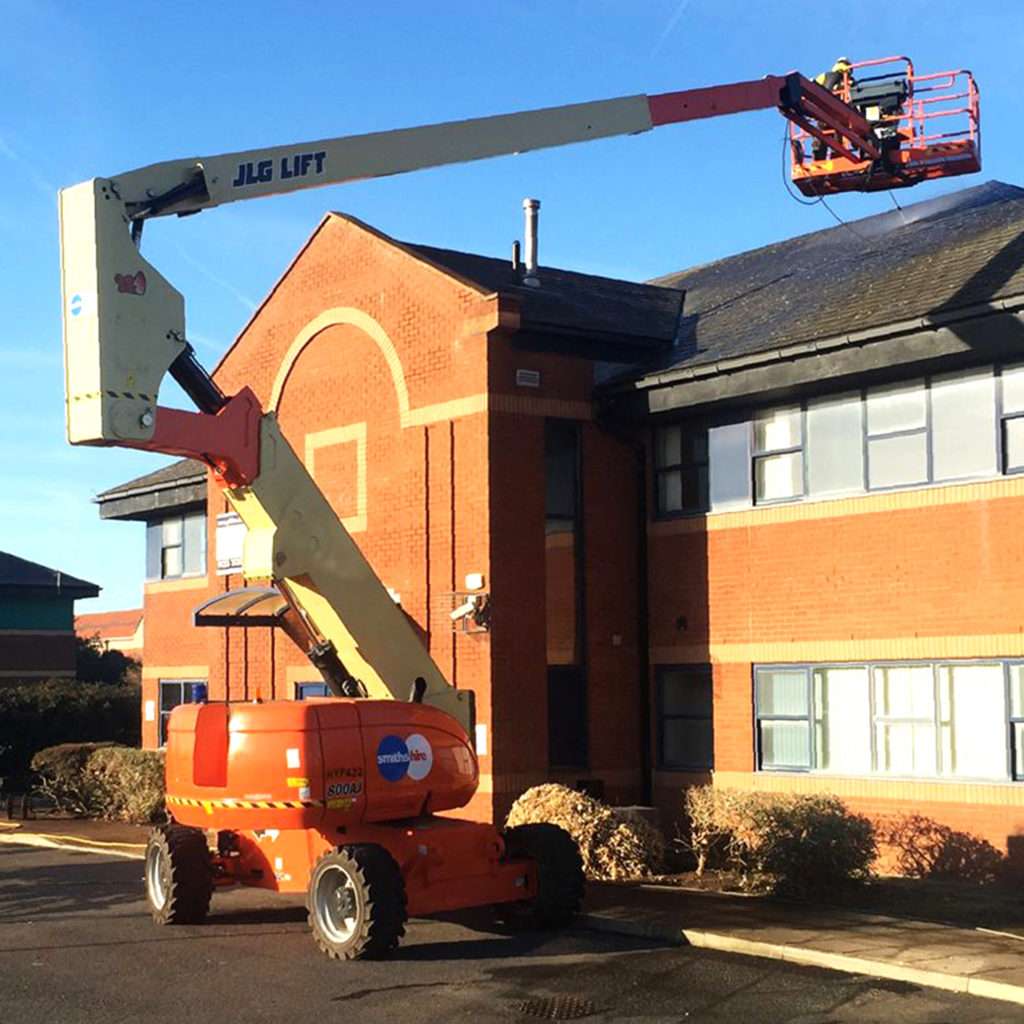 What are the Different Types of Powered Access?
The two main types of access equipment are Scissor Lifts and Cherry Pickers (also know as Booms).
We'll go into the difference between these two shortly.
Cherry pickers can be further sub-categorised by function and base. For example, telescopic booms offer more versatility than a vertical mast boom. Cherry pickers can be trailer mounted (known as spider lifts) or mounted to their own base, enabling you to manoeuvre the machine around on its wheels. 
To see our full selection of powered access machines, along with videos of them in action, click here.
The variations in names and styles of machines can make it seem confusing. But there's only really a few considerations you need to make to help you choose the right one for the job.
Scissor Lift Vs Cherry Picker
As you'll see from the diagrams below, the main difference between a scissor lift and a cherry picker is that scissor lifts offer vertical (up and down) lift only. Whilst you can drive the scissor lift to move side to side. You can't go up and across like you can with a cherry picker.
If you have a job that requires you to simply go up and down, maybe reposition and repeat, then a scissor lift will fit the bill perfectly. You can complete the task quickly and safely. However, if you need more lateral movement at height, you'll be asking yourself the following question.
Which Cherry Picker is Right for the Job?
The question is ultimately what raise and reach do I need?
How high you need to be to do the job and the horizontal reach you'll need to attain are the important considerations. 
The maximum height of a boom/cherry picker is generally measured from the ground to its maximum vertical reach. This will include the additional length of a persons reach. To ensure you get a machine that's high enough, we recommend playing it safe and not including your own height on top of the reach you need from the equipment.  
In terms of sideways reach, this is measured from the base of the turret (or lifting arm) to the cage/basket. Again this usually includes the addition of the average person's reach.
HIRE EXPERT TIP
It's important to consider the job you're doing here as you'll have full extension with lighter tools (like a paintbrush or screwdriver) but holding heavy equipment will reduce how far you can reach. Make sure you get a machine that reaches far enough.
Other considerations you'll need to make:
How heavy will the basket be?
Increasing the weight in the basket/cage with either heavy tools or an extra person(s). Will affect how far you can safely reach with your machine. If unsure, always speak to one of our hire experts.
Are you working inside or outside?
If you're working outside, look at the ground surface you'll be operating on. If there's a slope or terrain is bumpy then these factors will affect your choice. As ever, it's important to talk to one of our professionals rather than assuming a piece of equipment will get the job done.
If you're working inside. The main consideration will be ventilation. In areas with poor ventilation, we recommend an electric-powered access machine as opposed to diesel which will give off fumes. It's also important to measure the most narrow part of any room you're looking to work in to make sure the machine will fit.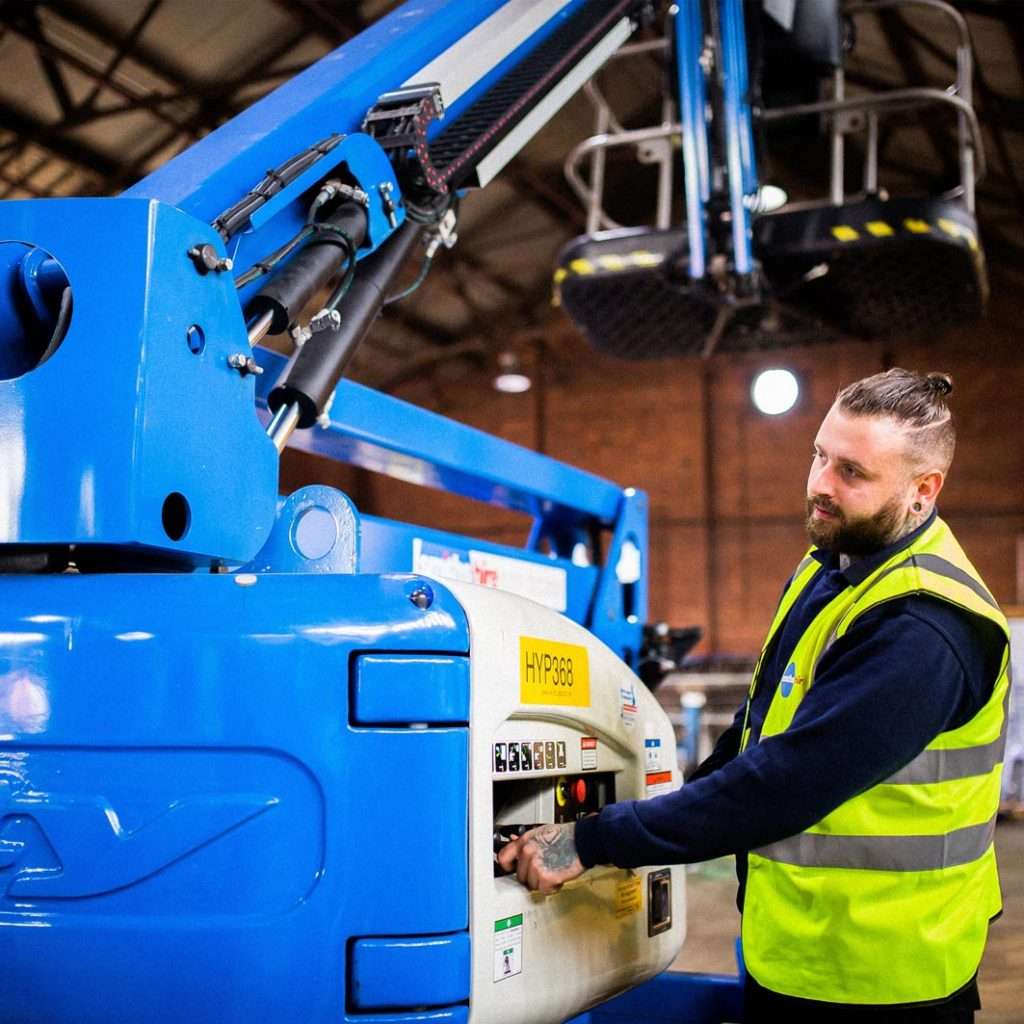 Scissor Lift or Scaffolding?
So far, we've looked at Cherry Pickers and their unparalleled versatility when working at height. 
And you may be asking why would I need a scissor lift when I can just use scaffolding or a non-powered access solution?
The main difference is moveability. Scaffolding works well if you're going to be working at the same elevated point for a long period. But, a scissor lift will enable you to get up to where you need to be and come down again, reposition and get up to a new place all within minutes.
Scissors are also available at large heights of up to 18m and can be utilised in open spaces without the use of a supporting wall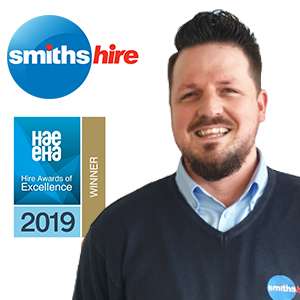 HIRE EXPERT TIP
If you have a job outdoors that requires powered access but the terrain isn't great, have a look at our Diesel Rough Terrain selection here.
Powered Access Hire. Can you rent a Cherry Picker?
Of course! That's what we specialise in, here at Smiths Hire. Hiring any powered access machine will save you a fortune and offer you a safe way to get the job done. 
Working at height incorrectly can cause injuries and worse. Hiring gives you peace of mind because our experts will help you with every step, including choosing the right piece of kit and help with operation instruction.
Can Anyone Hire Powered Access Equipment?
Many models can be operated by anyone with a standard car driving license – providing the machine is under 3.5 tons.
This means that most small and domestic type tasks can be covered off without any additional training qualifications or certificates. Or the need to hire an operator. 
For larger more skilled operation, operators should be IPAF qualified. If you or any of your team require this training we offer industry-leading IPAF training here.
How much is Powered Access Hire?
The key factors affecting cost are, of course, the duration of time you'll need the equipment for and the model you need. 
To find out how much your specific job will cost, feel free to fill in a no-obligation contact form or hire/quote request on our website. You'll find these on the product page of the machine you're looking at hiring.
There you have it, our brief guide to Powered Access.
For more information and side-by-side diagrams, take a look at our brochure. 
Or to view all the different types of Powered Access machines available, visit our Powered Access page.