Choosing the right access platforms is a crucial step in preparing for any project, whether DIY or commercial, to enable yourself and your team to work safely and efficiently at height while adhering to Health and Safety Regulations. We have a range of non-powered access equipment available, but how can you determine which is best for your project? Here is our Guide to Non-Powered Access featuring frequently asked questions to assist your decision.
It's not always immediately obvious which is the right platform for the job and so you may find yourself requiring expert advice depending on the particular task. Whether you're carrying out a DIY home decorating project or need low-level access within your commercial premises, we can help.
What is Non-Powered Access?
Some of the platforms included in our Non-Powered Access category are as follows:
Non-Powered Access
The choice of whether to opt for powered access hire or non-powered access equipment ultimately comes down to the complexity of the task and how much access you need. For example, if you simply need to get onto a roof but then have an existing, stable work platform available once you have reached that height, then a ladder may be adequate and more affordable. If however, you intended were to be standing on the ladder while carrying out the work, this would be dangerous.
How Do You Know Which Category To Choose?
Non-powered access hire solutions are used generally for low-level work, up to five metres in height. The project duration or required mobility are also a key factor to consider here, however. If you have a project that may take several weeks, then you may need to install fixed scaffolding. This will allow workers to navigate easily and have a stable working area. Alternatively, if you have a shorter project, then it may be that you need to opt for a Push Around Platform.
Non-Powered Access Solutions
For projects that only require you to reach a lower height, or where simple access is required, there is no need to hire large pieces of machinery. Our vast range of non-powered access solutions can provide you with everything you need and more. Not only are these a cost-effective way to reach greater heights, but they are also more suited towards home DIY and decorating projects as there are no licences or training required to operate them. However, it is always important to take great care when working at height and to ensure that safety precautions are being followed at all times.
Let's take a look at some of the Non-Powered Access solutions available in more detail here:
Scaffolding Towers:
There are a vast range of options available, from standard scaffold towers to narrow towers, stairwell kits and more. Accommodating for working heights of up to six metres, depending on your requirements. These are a fantastic option for many projects.
Push-around Platforms:
Designed to be extremely manoeuvrable, these lifts are positioned on push around castors with a lightweight, compact chassis that allows for easy manual movement between locations. Whether you require access through a single doorway or inside of a lift, these platforms are absolutely ideal for indoor use.
Ladders:
Known as being the most traditional access solution. Ladders of all shapes and sizes do still very much have a place in the world of construction and are able to assist you with any of your simple access requirements. The 2005 Work At Height Regulations do advise that they should only be used for very light, short-term work or for moving to a higher platform area.
Podiums and Steps:
Our low-level access podiums, also known as platform podium steps, are easy to assemble and even easier to use. Perfectly suited to painting or small building or maintenance jobs. They will offer you a stable area from which to work. Ideal when there's a requirement to reach a slightly higher area, perhaps when working on an interior decorating project.
Trestles and Props:
We offer a wide range of trestles & props as well as strut equipment from the very best manufacturers. These are excellent for providing you with foundations. Ideal for jobs like bricklaying and can allow you to stand safely on scaffolding boards to get the job done.
Not only are all of these Non-Powered Access solutions incredibly useful for many projects, but they are also an eco-friendly option as no fuel is required for them to perform the task at hand.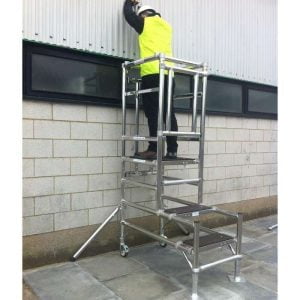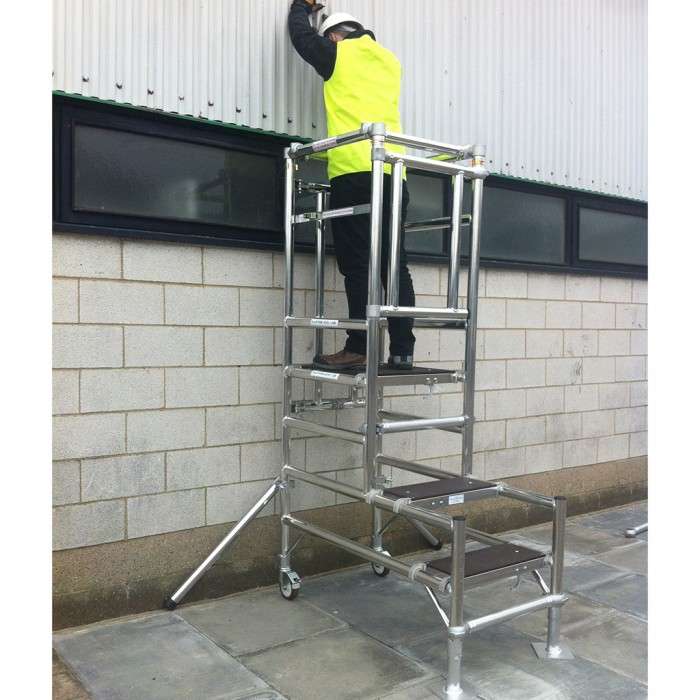 More Than Access Alone
Not only can we provide you with Access equipment that will be well-suited to assisting you with your decorating project. But we can also supply all of the tools you may need to carry out the task at hand too. From paint sprayers to wallpaper steamers, paddle mixers and more. This vast range of tools and equipment allows you to hire everything you need under one roof. Therefore, making the process not only simpler but more cost-effective.
Get In Touch
Keen to find out more? Our team would be delighted to share their skills and expertise with you. Give us a call today on 0333 323 2100 to discuss your project in more detail and to receive a free quotation or complete this contact form and one of our advisors will arrange a callback. Alternatively, you can visit your local depot and our expert team can advise which Access equipment will be best suited to your project.