There are actually several benefits directly associated with the presence of an efficient air conditioner. Not only will this help to boost levels of in-house productivity, but workers are less likely to become tired (one result of a decidedly warmer environment). Thus, more can be accomplished and the business itself will grow as a direct result. However, what if you cannot afford the installation of a large HVAC unit? You will be pleased to know that Smiths Hire can provide you with a number of bespoke options to choose from. In fact, our air conditioning unit hire services are some of the best in the industry. What appliances do we have to offer and what are some of the applications associated with each?
Our range of high-quality dehumidifiers will suit the requirements of small offices as well as larger working spaces. It is important to keep humidity levels down, as drier air promotes evaporation. This helps employees to feel cool and comfortable. Low humidity levels can also prevent the buildup of mould and similar hazards. These dehumidifiers are powered by standard mains electricity and two different sizes are available. If you wish to hire a dehumidifier for your office, please examine both options in greater detail.
These units are excellent choices for the modern office, as they are extremely quiet. You can, therefore, remain confident that everyday operations will not be impacted by their presence. Another beneficial feature associated with these air conditioners is their portability. So, it is possible to place these units in the most appropriate location in order to achieve the maximum amount of cooling required. Once again, two power ranges are available and their sleek design will offer an aesthetic edge that is not possible with more bulky alternatives. Do not hesitate to examine each to learn more about what is in store.
Industrial Air Conditioners

There are times when more powerful units will be needed to cool larger spaces. Examples can include warehouses, retail environments and showroom floors. In such instances, why not select from our line of Broughton industrial air conditioners? Offered in power ranges of 7 and 9 kilowatts, it is now possible to provide a cooling effect to even the most challenging of locations. The presence of sturdy castor wheels provides an easy means of transport and up to three areas can be cooled simultaneously thanks to individually directed exhaust ducts.
Not only will our range of evaporative coolers help to lower the temperature of a room, but they are capable of redistributing the existing airflow. This is why they are often seen within dining rooms, restaurants and professional environments. Of course, these options are likewise perfectly able to be employed within an office in order to achieve the maximum cooling effect. It is best to place this cooler near a window in order to enhance its effects.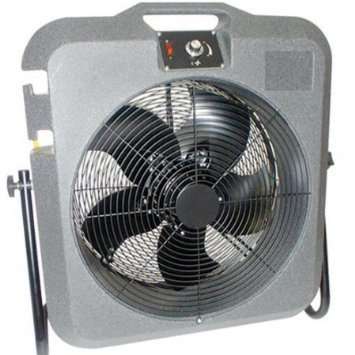 There may also be times when you instead require the use of a high-powered cooling fan. Smiths Hire supplies fans that are able to quickly extract hot air from your office. These units are extremely portable and completely safe thanks to the addition of front grilles. Capable of producing an airflow of up to 9,500 cubic feet per minute, there is no doubt that such units will offer a lasting effect. Please note that these are suitable for both indoor and outdoor use; ideal if you are planning a corporate gathering in the near future.
Our air conditioning unit hire services are flexible enough to address the needs of any professional workplace. Whether you wish to hire a dehumidifier or you are instead interested in learning about your power options in regards to exhaust tube air conditioners, our team are always here to help. Give us a call today on 0333 323 2100 to help your site beat the heat.