Scaffolding safety is no laughing matter and it is therefore important to appreciate what factors need to be taken into account when planning a job. Let's take an in-depth look at some major points so that you will be prepared from the very beginning.
Defining the Physical Requirements Associated with a Specific Project
Any D.I.Y scaffolding project should always begin by examining the options at your disposal. Of course, these will be based upon factors such as the associated heights, the dimensions that you have to work with, and if you will be working indoors or outdoors. Let's always keep in mind that there is no such concept as "one size fits all" in terms of scaffolding requirements. This is also one of the main reasons why Smiths Hire provides you with a number of unique options to choose from. Other factors such as AGR (advanced guard rail) systems should also be present in order to further enhance scaffolding safety when working at heights. Knowing what you require ahead of time can help you avoid costly delays and naturally, the security of all employees will never be taken for granted.
Height Issues to Address in Advance
According to 2015 statistics, falls from height comprised no fewer than 29 percent of all fatal injuries within the workplace (1). It is therefore obvious that even the smallest of mistakes can lead to dramatic consequences within seconds. You will therefore need to take into account the requirements of the job. These are then translated into the type of scaffolding that you choose. Some of the pertinent questions that need to be answered include:
What type of guard rails will be required?
Will you need slip-resistant platforms?
Does the unit come equipped with stabilisers?
Can the scaffolding easily be transported from place to place?
Will the workers be required to wear safety harnesses and if so, are there sturdy contact points?
There are many instances when you might be required to load or unload materials. Examples include roofing tiles, bags of concrete and large drums of exterior paint. You need to be certain that the platform is stable. As the height of the scaffolding increases, stability becomes more of a concern. This is why modern units are built with lightweight and extremely durable materials. Still, it is critical that you never exceed the recommended weight limit. This could place workers at risk.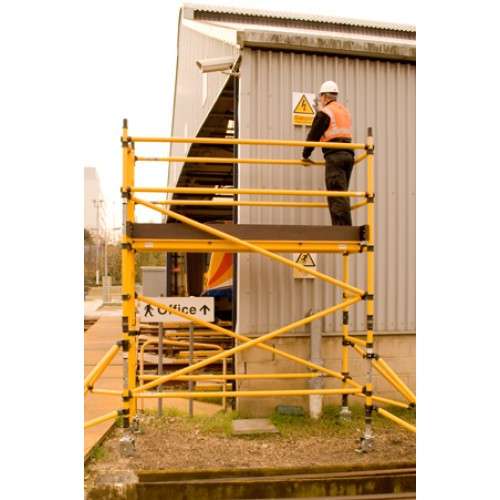 Common Safety Issues to Take Into Account
There are several steps which should be taken in order to lessen the chances that an accident might occur. Always be sure to inspect any scaffold for damage before it is assembled. Inspections should also occur when:
Each time it is constructed or taken down.
If any alterations have been made.
If the unit is moved from one location to another.
These basic concepts of scaffolding safety should be addressed when working at any height, as accidents can easily occur. Supervisors also need to follow the correct protocols when dealing with any potential scaffolding height restrictions. Examples include working around power lines and making certain that the structure is placed upon level ground. Some other understandable areas to examine include (but might not be limited to):
The proper use of personal protective equipment (PPE) such as non-slip shoes and hard hats.
Making certain that all scaffold wheels are locked when in use.
Examining that guard rails and mid rails are secure.
Removing any objects on the scaffold after the workday has been completed.
Weather is another factor to address. While the scaffolds themselves are constructed from highly durable materials, the fact of the matter is that exterior conditions can dramatically impact on-site safety. For example, many scaffolds should not be used if winds exceed a certain velocity. This is generally proportional to their height. Rain, ice, and snow will obviously present their own hazards in terms of slips and falls. This is why there can be times when a safety harness will be required. It is a good idea to become familiar with all of the features and guidelines associated with a specific scaffold in order to ensure that no mistakes occur.
Smiths Hire: On Your Side
Scaffolding safety is everyone's concern and by appreciating the basics, serious (and even fatal) incidents can be avoided. Smiths Hire provides a wide range of scaffold towers, so please have a closer look. A representative will be pleased to help if you have additional questions. View our full range of Access Equipment here.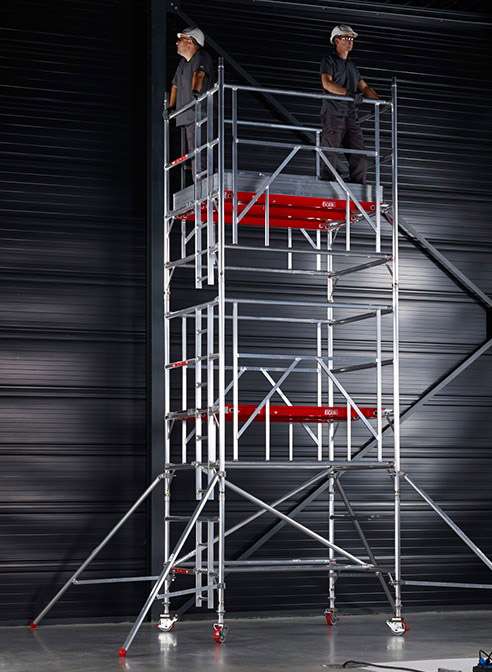 Sources:
1. https://www.seton.co.uk/legislationwatch/article/common-safety-killers-falls-from-height/